"Prog Then... And Now..." A Look At The Record Collector Magazine Feature
by John "Bobo" Bollenberg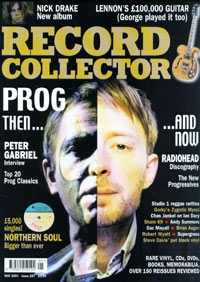 With the May 2004 edition marking its 297th issue, British based music monthly Record Collector most certainly is a valuable asset in the world of any serious music lover. Whether a true collector or simply interested in all kinds of good music, this magazine not only offers very detailed articles on a wide range of artists, but it also very often gives values of discographies together with photos of rare items. Record Collector only recently turned to full colour, which of course has been very welcome, especially as you get a much better idea once these international 7" sleeves are published!
Over the years Record Collector has grown out of the Beatles monthly it began as into what is to be seen as the music lover's "bible." Of course, with so many artists around the globe, such a wide variety of musical styles, as well as more than fifty years of archive material, Record Collector covers a very wide territory. However, we can clearly say that the magazine burns a torch for progressive rock, whether this concerns the "vintage" period or the more current revival of the genre. Especially news editor Tim Jones has a heart for prog and hardrock, which we have noticed over the years that he's been part of the nucleus of RC. In issue 297, the main focus goes towards the article "Prog Then ... And Now," which on the cover shows a face assembled out of half of that of Peter Gabriel and half of that of Thom Yorke. To make it even more interesting, the magazine sports an interview with Peter Gabriel as well as his top 20 collectables, plus the full Radiohead UK discography. I was very pleased to see that my copy of the band's "Creep" single from 1993 is now worth £80 or a mere $123 US dollars! Not bad for something I picked up at a carboot sale for only a handful of cash.
In a 15 page "prog special," Tim Jones also looks at what can be seen as the new generation of progheads ranging from Mars Volta to Radiohead, The Coral, Spiritualized, Muse, Air, The Cooper Temple Clause, Gorky's Zygotic Mynci, The Polyphonic Spree, Tool and Super Furry Animals. There's also an ingenious map of the imaginative "prog planetary system" together with a short view on the 20 "must-have masterworks" in the domain of prog and their values. The original first pressing of In The Court Of The Crimson King by King Crimson is valued at £50 or $77 US dollars. That's if you have the 1969 pressing with the pink Island label. Because of the number of original vinyl albums pressed at the time, most of the prices for these 20 top albums range between £12 and £20 ($18 and $30 US dollars). However, we all know that especially prog and folk contain the most expensive albums in the world, some of which demand huge amounts of money!
Record Collector is made by true enthusiasts, which also translates itself into the contents of the articles. Take the interview with ex-Police guitarist Andy Summers. Although condensed onto one A4 page and mainly intended to promote his recent release Earth + Sky, we get to know about Andy's involvement in Soft Machine when he used to tour the States next to Kevin Ayers, Mike Ratledge and Robert Wyatt. To this day he still regrets not having recorded any material back then. Some jams with Robert were recorded, but they never saw the light of day. Summers continues telling us how he was devastated when the Police called it a day after six intense years and sales of up to 75 million albums! As kind of a healing process he went back to his roots playing his own interpretations of jazz. He now tours with a young band including Bernie Dressell on drums, who used to work with Brian Setzer, and Ernest Tibbs on bass, who used to play with Allan Holdsworth a lot. Very interesting stuff indeed!
Issue 297 also contains 15 pages of very interesting news items; info as to tell whether your copy of the A&M Sex Pistols single "God Save The Queen" is worth around £3000 to £3500 ($4600 to $5380 US dollars!) or a fake; an in depth view on those 70s singles from Studio One in Jamaica; a chat with Chaz Jankel. You can gaze at the £120,000 ($184,500 US dollars!) Vox guitar as used by John Lennon and George Harrison, see photographs of the Beatles/Epstein contract and even a Dali-like piece of artwork from the hand of Sid Vicious, all items which will go under the hammer at the next auction at Christie's. There's a large feature on the collectable Northern Soul; the Sham 69 story and tons of album reviews as well as loads of set sales and auctions. We also notice the existence of a very rare single by the band Brainticket whilst it also informs us that Neil Ardley, who wrote music for Ian Carr and Nucleus amongst others, died on 23rd February 2004, aged 66.
I have ALL of the 297 issues of Record Collector in my collection since they started in 1980, and find it very handy as a journalist to be able to look up certain aspects regarding releases, limited editions and such. A single issue costs £3.40 but it's far better to take a subscription for a year (5% discount), two years (10% discount) or better still three years (15% discount). You now get 13 issues a year instead of the usual 12 as the magazine is released every four weeks. For more information it's best to get in touch with [the magazine, www.recordcollectormag.com].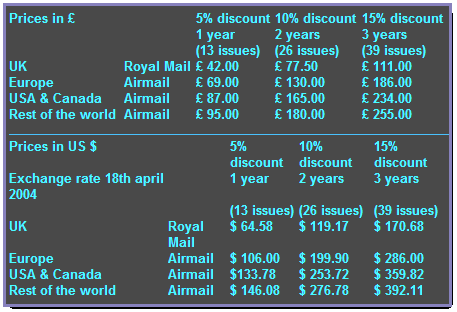 [in 2004 -ed.]
[This particular issue is out-of-print, but Record Collectoris going strong (publishing issue #447, the Dec 2015 issue). I did make a change to this article from when it was initially published - substituting an email address (that may or may not have been valid) to the web address. 2015 sub rates: Current UK rates £39.00 (1 yr) direct debit; £47.00 (1 yr) credit/debit card (2 yrs, £82.00, 3 yrs, £115.00). US/CA/EU - £69 (1 yr), £129.00 (2 yrs) or £189.00 (3 yrs)... and the rest of the world, £98 (1 yr), £185.00 (2 yrs) and £259.00 (3 yrs). -ed. Nov 2015]
Links: Peter Gabriel, Thom Yorke, Mars Volta, The Coral, Spiritualized, Muse, The Polyphonic Spree, Tool, Super Furry Animals, Andy Summers, Soft Machine, Brian Setzer, Allan Holdsworth, Chaz Jankel, Beatles, Sham 69, Brainticket, Neil Ardley, Ian Carr and Nucleus
Copyright © by ProgressiveWorld.net All Right Reserved.
Published on: 2004-04-18 (4844 reads)
[ Go Back ]