The Ayreon Home Visit - An Inside Look At The Human Equation (March 2004)
by John "Bobo" Bollenberg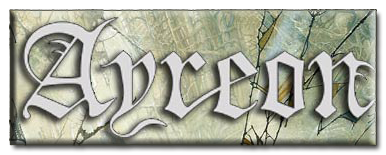 The iron gate automatically opened when I approached Arjen Lucassen's "electric castle" on Saturday, March 13th. As happens most of the times when a new Ayreon album is finished, both Arjen and his darling wife Yolanda invite some press friends to their home to have a sneak preview of things to come. When I left my car, Arjen was already coming towards me to greet me, arms wide open; in other words, his usual self, as no doubt he is one of the most sympathetic musicians in rock. Yolanda arrived a little later, complete with cake, whilst inside I was greeted by Arjen's manager Yvette.
The first surprise of the afternoon was waiting in the living room where I could enjoy the actual painting that will later on grace the front cover of all Human Equation products (there will be a "normal" double jewel case version including two CDs; a limited edition in a small 5" box, which next to both discs will also include a DVD; and a deluxe version, which will include the double disc, the DVD, and also a large book to be compared with previous Transatlantic and Flower Kings releases. Once again the original painting was created by Belgian painter Jef Bertels, who came into the Ayreon picture from Into The Electric Castle onwards. The other artwork has been designed by Mattias Norén.
By now it was time to move to the separate building which houses Arjen's studio. First a small explanation from Arjen about the actual concept. "A man has a car accident and ends up in hospital in a coma. The car accident was very weird, as it was broad daylight with not one single car in sight. His best friend and his wife are keeping a vigil at his bed, trying to understand what happened, hoping he'll wake soon.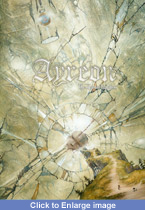 Cut off from the outside world, the man finds himself trapped in a strange realm where his emotions, most of which he has ignored for a long time, have come to life to confront him with all the choices he has made in his life. As he is taken from one memory to the next, he slowly becomes aware of all the events leading up to his accident and realizes that, if he ever wants to wake up from his coma, he must find a way out of his prison!" This entire concept is spread over 20 parts which each depict one day of his coma. In order to make this experience work, Arjen has chosen no fewer than eleven different singers who each emulate a certain emotion.
Dead Soul Tribe and ex-Psychotic Waltz frontman Devon Graves puts down "agony." The weird Devin Townsend is "rage." Saviour Machine's Eric Clayton is "reason" whilst Magnus Ekwall from The Quill delivers "pride." Fans will be thrilled to know that none other than Opeth's Mikael Äkerfeldt steps in as "fear" with Shadow Gallery's Mike Baker as "father." The main role of "me" has been reserved for Dream Theater's James LaBrie, whilst Arjen steps in the shoes of "best friend" himself. Three ladies have also been invited to the "castle" one being Mostly Autumn's Heather Findlay, the second Irène Jansen from Karma, and the latter, the unknown Mexican, Marcela Bovio, who has her own band Elfonia.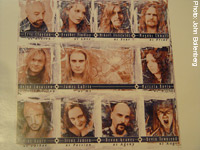 From a musical point of view, Arjen wanted to include some more contemporary sounds so he opted to play a seven string guitar himself to get a crisper sound. Although being a fan of analogue keyboards he also used a digital keyboard for this album. Also some authentic violins and cellos have been added to give it a warmer sound. In the beginning, Arjen tried the best classical musicians but they sounded too technical playing their parts without any soul at all. In the end Arjen contacted the well-known Dutch folkband Flairck who delivered some members for the project. Extra flutes were injected by means of John McManus from the folkband Celtus and Jeroen Goossens from the band Pater Moeskroen. Jeroen. who also is an ex-member of Flairck, drafted in non-conventional instruments such as didgeridoo and even panpipes! Needless to say, all of the drum parts are once again taken care of by Ed Warby who simply is half of Ayreon! Extra keyboard parts by Sun Caged member Joost Van Den Broek, who also was part of the Star One extravaganza. IQ's Martin Orford as well as Uriah Heep's Ken Hensley are also taking part. Arjen wanted to have Rick Wakeman on board but due to Rick's heavy schedule he had to be happy with Oliver Wakeman. Looking in my direction Arjen said: "however, I know certain people who got Rick on board from the word go!", obviously referring to my very own If Only Stones Could Speak album. But then it was time to finally hear some of the new material.
With The Human Equation being a double album, of course there was no time to listen to all 20 tracks (only one of which is instrumental), but in the end I surely heard half of them, so I got a pretty good idea what to expect. After listening to those ten tracks for the last week or so, I can clearly say that there are fewer solos in favour of more vocal acrobatics. To my ears, this new album sounds like a cross between Ayreon and Star One whilst also emphasizing the acoustic nature of the instruments, leaning towards folk and sometimes even medieval themes. Some of the voices Arjen chose do contain loads of variations, so when you listen to this new release for the very first time, you will most certainly need the booklet to know who the hell is coming out of your speakers.
By no means is it my intention to give a full description of the music, as of course I will need to fully experience all of the album at one given time before I can put pen to paper. However, this section is meant to give you an idea of what to expect when the album finally gets released on 24th May. Isn't it a coincidence that the release date is exactly my birthday? I sat back and relaxed when hearing "Day One - Vigil" for the very first time. Backed by cosmic sounding synths, we get the voice of Arjen Lucassen followed by the wonderful clear female voice of the great new talent Marcela Bovio. Then towards the end, the heart starts to beat faster whilst we hear the sound of an accelerating car. The sudden halt brings you from the movement to the actual coma,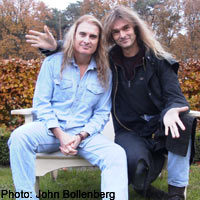 when we are introduced to the melodic singing of James LaBrie for the very first time in "Day Two - Isolation." Throughout the entire album, James will sound very at ease, only really rockin' in certain parts. The introduction of the fierce sounding Hammond steers the music towards Star One territory. Already in one song we get five different vocalists, proof of things to come! Suddenly the rhythm comes to a halt and glorious flute kind of takes us into "Introspection" era Thijs Van Leer making way for the gentle vocals of Heather Findlay. Then the first Pink Floyd element creeps in sounding like the nucleus of "On The Run" from DSOTM followed by almost authentic Dave Gilmour guitar, great basslines and a superb synth solo courtesy of Joost Van Den Broek, the youngster who already made his mark during the Star One tour. No doubt the current keyboard player of Dutch progmetal band Sun Caged is a world star and I am convinced he'll become very big in years to come.
Throughout the material I have heard so far, a lot of very catchy melodies surface, parts which stick in your mind immediately. One of them is the melody for "Day Six - Childhood" which is feeding ground for Devon Graves, James LaBrie and Mikael Akerfeldt. Strange how panpipes suddenly come to the fore, introducing another ever so powerful melody. The sound of the cello really is breathtaking here! With "Day Seven - Hope," Arjen has introduced a very poppy, rather psychedelic tune to the whole. Sung by himself, it's like an outtake from his sixties inspired Strange Hobby experiment from '96. "Day Thirteen - Sign" sounds a lot like, well, euh, the atmosphere on ... If Only Stones Could Speak! Indeed this is a very medieval sounding acoustic song featuring the fragile voice of Heather Findlay, fabulous flute playing as well as authentic spinet performed by, who else, Joost Van Den Broek. But to me, it's once again Marcela Bovio who really shines, whether with her clear voice or with her "treated" voice. Here "treated" means Arjen has added cracks and pops so as to make this part sound worn out. He says he used an old Beatles album for that purpose!
With The Human Equation being Ayreon's very first release on Inside Out, of course the German label wants to promote this release as much as they can. So they asked Arjen to lift one song from his album to be featured on sampler CDs that are given away with monthly rock magazines. For sure Inside Out wanted a song that contains James LaBrie's vocals. However Arjen's choice became the weird and zany "Day Sixteen - Loser," which begins with ... didgeridoo, before introducing mandolin, which takes us to the folky hills of Russia where all hell breaks loose, courtesy of mega loud guitars. Think Skyclad or Rhapsody with the voice of Mike Baker and the Hammond insanity of good old Ken Hensley and you get a good picture of what to expect. Be sure to brace yourself for this one! Then it's time for "Day Seventeen - Accident?", which once again contains a fair amount of Gilmour-like guitar. None other than Oliver Wakeman delivers a great synth solo here whilst Eric Clayton's voice comes ever so close to that of David Bowie. "Day Eighteen - Realization" sounds like a cross between vintage Deep Purple and Focus whilst the folky bit leads you to Blackmore's Night territory. However, the structure of the piece then reminds me of Tubular Bells, as the same melody is repeated time after time, each time using a different instrument. It starts out with wah-wah, then moves to Hammond organ, flute, cello, bassoon, mellotron, violin, Moog, full rock band and full orchestration before the singers step in again. The listening session ends with the closing section for "Day Twenty - Confrontation," which contains a line from each singer except for Devin Townsend and Mike Baker.
Finally, the heavy "Day Three - Pain" is played, which contains some of Devin Townsend's own lyrics and vocal lines. None of us knows what Devin means with "motion personified alpha"!
By now we all know that also a single
will be pulled from the album, the choice being an edited version of "Day Eleven." However I am given the opportunity to hear the Led Zeppelin cover "No Quarter" first, which is a very fresh and certainly new approach to this classic.
Then it was time to go up to Arjen's media room to watch all of the DVD for the first time. The main part of this DVD takes a look at the "electric castle," so soon everyone will be able to get into the actual world of Arjen Lucassen. There's also a section in which drummer Ed Warby takes us on a more technical journey around his drumkit. Ed's English is phenomenal, and this guy really merits a major breakthrough!
The countdown for the release has begun and after hearing half of the album I can't wait to hear the rest. However, I call myself privileged, as none of the singers have heard what I just heard, so thanks again Arjen "Anthony" Lucassen and Yolanda for having me and for playing host to the wonderful singers on this album who all came over and stayed at Arjen's place to record their parts. All but one, as Devin Townsend recorded his parts in Canada. James LaBrie stayed in Rijsbergen, Holland no fewer than four days, during which he also tasted the Dutch culture and also accompanied Arjen to go and see Porcupine Tree when they performed in Holland during his stay. No doubt The Human Equation will once again kick some ass!
Links: www.arjenlucassen.com
Copyright © by ProgressiveWorld.net All Right Reserved.
Published on: 2004-03-22 (7910 reads)
[ Go Back ]