"Let It Be...Naked" In Brussels
by John "Bobo" Bollenberg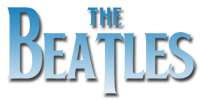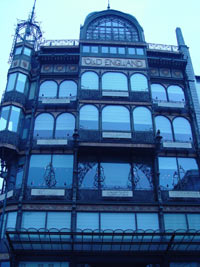 Friday 14th November, 2003 at exactly 2 PM the press was invited to attend the "launch" of the "new" Beatles album Let It Be ... Naked. As perfect location, EMI had chosen the Musical Instruments Museum situated in the heart of Brussels, Hofberg. Since June 2000, the museum has moved to the 18th century hotel of Barnabé Guimard and the wonderfully restored "Old England" building. Because it sometimes is difficult to know whether at all traffic will enable you to arrive in time, I had left a little early, arriving one hour in advance. This gave me the opportunity to visit the museum. Out of the 7000 instruments the museum currently has in its possession, 1200 instruments are currently on display. By means of an ingenious system of infrared headsets and an interactive sound area, the audience can hear music played by most of the instruments present. Without any doubt, this museum has to be visited by everyone who is into good music. It will only set you back 5 euro per person and if you'd like more information please visit www.mim.fgov.be
Yet the most important part that day was the sixth floor where the restaurant is situated. Here you have a wonderful view over Brussels and although it was a little hazy that day we still could locate the famous Atomium. The rooftop of the MIM kind of replaced the rooftop of the Apple Building, Savile Row 3, London where on 30th January, 1969, the Beatles performed together for the very last time in history. Then they performed four songs that can now be found in all their simplicity on Let It Be ... Naked. In Brussels the Beatles were replaced by cover band Abbey Road. In front of a selected audience of media people, they played eight out of the eleven songs on the Let It Be album.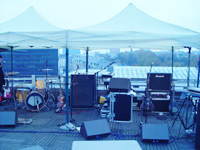 One of the bandmembers excused the band for not being able to play the entire repertoire without tiny mistakes because they normally hardly play any material from this album. An EMI representative previously informed us that of the compilation album 1, no fewer than 25 million copies have currently been sold. After negotiations with Apple Corps and out of "respect" for the band, it was decided to "undo" the Let It Be recordings from their Phil Spector arrangements in order to restore the recordings the way they were recorded in the first place. Thank god it didn't rain for this performance. However, the musicians had a difficult job finding the right chords with their half-frozen fingers! In the end Abbey Road did a good job and they will be remembered as the Belgian stand-ins for the legendary Beatles, courtesy of the filmcrew from TV-station RTL Tvi.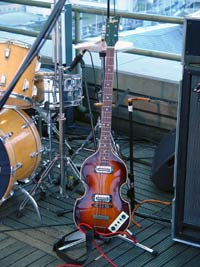 1. The Hofner violin bass as made immortal by Paul McCartney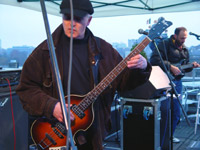 2. The Paul McCartney stand in in action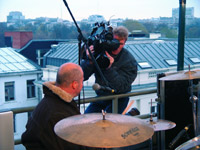 3. Attention from television station RTL Tvi for the replacement of Ringo Starr
4. A 'thinking' 'John Lennon'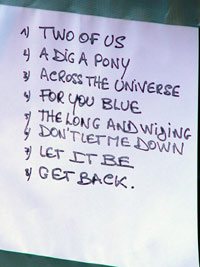 5. We were treated to eight out of the eleven songs from the Let It Be album.
6. Abbey Road, the cover band that regularly performs at the legendary Spirit of '66 club, keeps the Beatles legend alive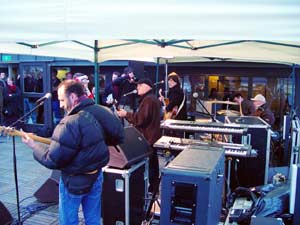 7. Behind the scenes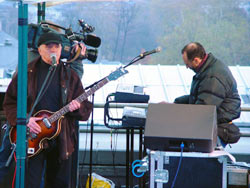 8. Paul and Billy Preston during the final
'Let it be.' Only minutes before Preston still played the
role of George Harrison
9. Abbey Road relives the Beatles
10. The press at work
11. Amongst the strictly limited audience were some famous Belgian media people such as Panorama journalist and Kanaal Z director Johan Opdebeeck (in the brown leather jacket) and VRT radio voice Betty Mellaerts (extreme right) who seemed to enjoy every second of the rooftop concert
Links: The Beatles
Copyright © by ProgressiveWorld.net All Right Reserved.
Published on: 2003-11-17 (603 reads)
[ Go Back ]