CD/DVD Releases: Textura Label Debuts With ''Kubla Khan''
First-year university students enrolled in English Literature 101 invariably read Wordsworth, Byron, and Keats, but the poetic work that likely lodges itself in memory most of all is Samuel Taylor Coleridge's "Kubla Khan, or a Vision in a Dream. A Fragment," and not just because the author himself claimed it was inspired by an opium-induced dream. Written in 1797 and first published in 1816, the poem includes imagery so vivid it lends the work an hallucinatory quality that sets it apart from all other Romantic poetry, and the opening lines alone can entrance even the most resistant student:
In Xanadu did Kubla Khan
A stately pleasure-dome decree:
Where Alph, the sacred river, ran
Through caverns measureless to man
Down to a sunless sea.
Some may recognize Xanadu from Orson Welles' Citizen Kane as the name of the immense estate that Charles Foster Kane built for his second wife Susan Alexander (who came to regard it as nothing more than a fortress of solitude from which she had to escape). Needless to say, we at textura were captivated by the poem when we first read it all those years ago ? so much so that when we decided to establish a textura label we immediately thought of Coleridge's poem and its rich potential as an inspirational midwife for musical work. And so it came to pass that four stylistically-diverse artists ? Alexander Turnquist, The Retail Sectors, orchestramaxfieldparrish, and Ryan Francesconi & Lili De La Mora ? contributed their abundant artistry to textura's premiere release in the form of unique interpretive responses to the poem.
Some of the artists drew upon the majestic spirit of Coleridge's poem while others used a particularly evocative passage as a conceptual springboard. The Retail Sectors bookends the hour-long recording with two epic samplings of Kentaro Togawa's signature instrumental rock. In the first, "Precarious Awakening," intricate guitar and bass lines unite for an elegant pas de deux as the piece moves through a series of ever-intensifying climaxes; the ponderous second, "The Ever-Changing Scene," brings the recording to a graceful close but not before exposing the listener once more to Togawa's smoldering attack. At the recording's center, Ryan Francesconi & Lili De La Mora present the wistful and alluring vocal ballad "Green To Red" while Ryan frames it with two lovely guitar meditations, "Parables" and "Deep Rivers Run Quiet." The first, the more uptempo of the two, spotlights the crystalline and rather harp-like sound of his deft acoustic picking; true to its title, the second adopts a more ruminative mien. In contrast to those song-structured pieces, Alexander Turnquist and orchestramaxfieldparrish (Mike Fazio) contribute long-form soundscapes that are simultaneously immersive and transportive. In the seventeen-minute "Fragments Vaulted Like Rebounding Hail," Turnquist uses 12-string acoustic guitar, toy xylophone, samplers, and laptop to produce an initially turbulent and ultimately peaceful galaxy of rustling static and flicker, while Fazio's heavily-processed pedal steel guitar creates a celestial realm of shimmering streams, slow-burning tones, and glistening waves in "Waning Moon Over Sunless Sea."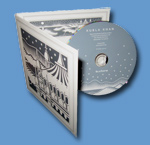 Despite the artists' stylistic differences, Kubla Khan's admittedly disparate parts coalesce to deliver a resplendent listening experience that feels immensely satisfying and whole.
TRACK LISTING
1. The Retail Sectors: "Precarious Awakening" (5:51)
2. Alexander Turnquist: "Fragments Vaulted Like Rebounding Hail" (17:25)
3. Ryan Francesconi: "Parables" (5:41)
4. Ryan Francesconi & Lili De La Mora: "Green To Red" (3:10)
5. Ryan Francesconi: "Deep Rivers Run Quiet" (4:13)
6. orchestramaxfieldparrish: "Waning Moon Over Sunless Sea" (18:44)
7. The Retail Sectors: "The Ever-Changing Scene" (6:46)
THE ARTISTS
Ryan Francesconi & Lili De La Mora: Seattle resident, multi-instrumentalist, and CalArts graduate (degrees in Guitar, Composition, and Electronic Music) Ryan Francesconi brings a deep love of Balkan folk music and ambient acoustic music to his solo releases under the RF moniker and his collaborative work with vocalist Lili De La Mora (their remarkable debut collection Eleven Continents) and Joanna Newsom (whose harp playing also graces the duo's album). In his productions, Francesconi applies subtle electronic treatments to field recordings, vocals, and classical instrumentation to produce rich and highly personalized work.
orchestramaxfieldparrish: Since 1999, Mike Fazio has issued solo material under the orchestramaxfieldparrish guise and since 2005 been active as one-half of the experimental ambient-industrial outfit Gods of Electricity. Fazio's symphonic sculpting of electric guitar- and pedal steel guitar-generated sounds is heard to marvelous effect on the frozen vistas of orchestral sweep comprising his recent release The Silent Breath Of Emptiness. Drifting chords and sustained tones coalesce into metallic soundscapes of lyrical beauty during the work's five connecting parts.
The Retail Sectors: Kentaro Togawa, the one-man band behind The Retail Sectors, creates music of remarkably rich variety without straying from his trademark guitar-bass-drums set-up. In his tracks, Togawa, who also heads up the Japan-based label Symbolic Interaction, weds pristine guitar lattices to a blistering attack. His recently issued The Starlight Silent Night may be the most perfectly-realized distillation of The Retail Sectors' sound to date.
Alexander Turnquist: Alexander Turnquist is a New York-based acoustic guitarist and sound sculptor whose Faint At The Loudest Hour and Apneic have garnered considerable acclaim (Pitchfork gave the former an 8.2 rating). Given the apparent ease with which he can produce rapidly-picked cyclical patterns of entrancing, raga-like design, it's understandable that his name is mentioned alongside James Blackshaw and Sir Richard Bishop but Turnquist ? as exemplified by the meditative Apneic and his amazing Kubla Khan contribution ? often ventures beyond strict acoustic guitar playing for more unconventional territory.
[Source: Faith Strange Recordings]