Far From Home, the first DVD of the British prog rock band DeeExpus, is now available in all good record stores worldwide. Its preview, track "Greed", is still available to see on Metal Mind Productions' channel on YouTube: www.youtube.com/profile?user=MetalMindPoland.
Signed copies of the Special Edition DVD+CD are still available via the band's store at www.deeexpus.com though are in very limited supply.
DeeExpus are currently in rehearsals for their forthcoming UK dates and recording for the new album is well under way. Henry, the new boy, is settling in like a duck to water, so much so that Cambridge Rock Festival could very well see the band performing a brand new track.
Here is the first official photo of the band in the new line-up: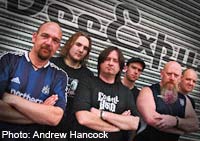 DeeExpus ? July 2009 - left to right: Tony Wright, Hen Rogers, Andy Ditchfield, Marc Jolliffe, Ian Raine, Steve Wright
(Photo - Andrew Han*****)
British fans of DeeExpus have a chance to see the band live soon as they have the following dates on the schedule:
Sat 8th August Cambridge Rock Festival, Barton, Cambridge, South
Sat 26th September CRS - The Wesley Centre, Maltby, Rotherham
Sun 27th September CRS - Riga Music Bar, Westcliff-On-Sea, Essex
Sat 3rd October The Orange Box, Yeovil, Somerset
US fans have to wait till 2010 when DeeExpus play a show at ROSfest: Sun 2nd May, Glenside, PA, Philadelphia, Pennsylvania.
The Far From Home DVD was released by Metal Mind Productions in early July in 3 different formats: DVD, limited DVD+CD edition, including bonus audio CD with songs recorded during the gig at the theatre, and CD digipak (limited to 1000 copies). For full details please visit: www.metalmind.com.pl/index.php?dzial=wydawnictwa&more=1760
[Source: Metal Mind]