Concerts: Report: Hawkwind's 40-Year Space Trip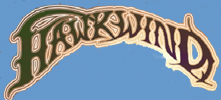 BBC News has issued the following report from Tim Masters:
It's one of the hottest days of summer, and the sound of space rock is throbbing across the Devon countryside.
In a converted farm building, veteran rockers Hawkwind are rehearsing for a string of summer festival dates and two special gigs to mark the band's 40th anniversary.
They are led by "captain of the ship" Dave Brock - the only original member from 1969.
Today he's in a straw hat, flip-flops and striped trousers, happily tinkering with his guitar and the banks of synthesizers around him. With him in the sweltering studio are keyboardist Tim Blake (who first joined the band in 1979), drummer Richard Chadwick (who joined in 1988), and relative newcomers bassist Mr Dibs and guitarist Niall Hone.
The Hawkwind studio - a former milking shed - is crammed with memorabilia from the band's four decades: old tour posters, gig tickets and ancient audio generators from the pioneering days of space rock.
There's even a train set in the corner.
[Source: Robert, Rock N Roll Cola]