Artist News: TheRoom Are Open For Business
"Brand new band TheRoom have been feverishly writing for that past year and are about to enter the studio late next month to record Demo/Pre production tunes in readiness for an album release later in the year/early 2012.
"Band Members are:
Martin Wilson - Vocals
Steve Anderson - Guitars
Andy Rowe - Bass and Keyboards
Steve Checkley - Keyboards
Andrew Rae - Drums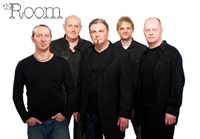 "I am also very pleased to announce that TheRoom web site is now up and running www.theroom.eu, With Biogs and a track taken from a recent rehearsal, it's little rough, but you can get a feel for what the band are about. We are also on Facebook and Myspace.
"The band are also planning a major band launch at a prestigious London Venue September/October 2011. More Details will follow once we have them....
"As you are aware, with Steve and Martin also involved with the GLD [Grey Lady Down] project, this is proving to be creative time for all involved.
"Many thanks for your support."
[Source: Martin Wilson/TheRoom]