CD/DVD Releases: Symphony X - Special Package Bundles Available For Pre-Order

As you may have heard, North America's progressive metal masterminds Symphony X have a new album, Iconoclast, on the way! It will be released on June 17 (Europe) and June 21, 2011 (North America).
That doesn't mean you have to wait until then to order it though! For a limited time, the Nuclear Blast USA web shop are offering special package bundles especially for the die-hard fans!
While supplies last, receive an autographed band photo with purchase of package bundle!
Enter to win a copy of the new album + autographed headphone and band photo on the band's Facebook.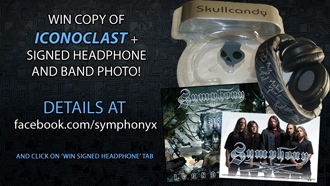 Symphony X have added several new video interviews clips to their YouTube Channel. Go check them out!
[Source: Nuclear Blast USA]