CD/DVD Releases: Moraine - ''Metamorphic Rock: Live At NEARFest''

Moraine write: "We're delighted to announce the release of Moraine's latest CD, Metamorphic Rock: Live At NEARfest (see details below). The CD is now available exclusively from the MoonJune Records website and will be available physically via worldwide distribution and as a digital download via iTunes, CD Baby, etc. on October 18. We trust you'll agree that this is easily our finest work to date.
"Related news: Look for upcoming notice of the Metamorphic Rock CD release show to be held on Saturday, November 5 at the Galway Arms in Seattle as part of the U District Jazz Festival (presented by LUCID Jazz Lounge and the Zero-G/TransLucid Concert Series).

"To mark the release of Metamorphic Rock, music writer extraordinaire Raffaella Berry has published an extensive interview with Moraine's Dennis Rea, Alicia DeJoie, and James DeJoie. A second highly stimulating interview of Dennis Rea by badass guitarist/fellow MoonJune artist Michel Delville can be read here.
"A feature article on Dennis Rea, written by the amazing guitarist Barry Cleveland, appears in the November issue of Guitar Player magazine, currently on the stands.
About Metamorphic Rock / Special Offer / Interview
"Since releasing their widely acclaimed debut CD manifest deNsity (MJR028) in 2009, Seattle's Moraine have quickly built a reputation as one of the most electrifying and original instrumental rock bands anywhere, winning over listeners across the globe with their unique amalgam of art rock, forward-thinking jazz, world music, and more. The band ups the ante with their highly anticipated new release Metamorphic Rock: Live At NEARfest, a blazing concert performance engineered for maximum sonic impact by legendary Pacific Northwest producer Steve Fisk. Captured in peak form at NEARfest 2010, Moraine wowed listeners with their inventive compositions, formidable musicianship, and tightly meshed interplay. Documenting a major advance in the group's evolution from their chamber-rock origins toward a more forceful and dynamic sound, Metamorphic Rock consists largely of new and previously unreleased material, augmented by a number of radically retooled tunes from manifest deNsity. Metamorphic Rock amply demonstrates that Moraine, like their geological namesake, are truly a force of nature.
For more info, sound samles and to purchase this CD, please go to the MoonJune Records website.

"Check out our special offer: Dennis Rea 3-CD Special Buy Moraine's manifest deNsity, Dennis Rea's Views From Chicheng Precipice, and Iron Kim Style for ONE SPECIALLY REDUCED PRICE: $30 US / Canada w/FREE SHIPPING / $32 Elsewhere w/FREE SHIPPING
A Revealing Look At Moraine's Dennis Rea (interview)
Dennis Rea interviewed by MoonJune guitarist par excellence Michel Delville (of The Wrong Object, douBt, Machine Mass Trio); foreword by John McGuire.
"I've always been a 'bipolar' musician in that I find through-composed music as satisfying as unfettered improvisation. For the most part I pursue these two interests separately, though I always allow room for improvisation even in my most tightly arranged works. Moraine, for example, combines rigorously composed ensemble passages with ample stretches of individual and group improvisation, which I suppose tilts us closer to jazz than your typical prog-rock band....." Read more...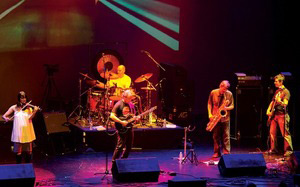 Moraine performing "Save The Yuppie Breeding Grounds"
at the NEARfest 2010 (click for video)
[Source: Moraine]