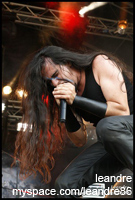 The Portugese Epic/Folk band Gwydion has released the following update:
"Cheers my friends! It has been a while since you got news from our camp! First of all we are overwhelmed by the huge success of our latest release Horn Triskelion, and we raise our horns to all of you Beerzerkers that made this a very successful album.
"Meanwhile, after 4 years of a great relation, we decided to stop working together with our label Trollzorn. But we will never forget who gave us a hand when we were a completely unknown band in Europe. It has been a great pleasure to work with such honorable people that always stood aside us in the best and worst times, but like everything in life there is a time when we feel the need to change and we all think that this time has come. We wish Trollzorn all the best and please keep up your astonishing work as a folk/pagan label!

"But the best news of all, Gwydion has entered 'The Pentagon' studio last week to record our 3rd album with our producer Fernando Matias and so far everything is rockin' as it should be! You think Horn Triskelion was good ...? Well then arm yourself, and get ready for war! Prepare yourself for the most intense and majestic epic folk metal album! Horns up! "
Metal Revelation/photo: Leandre