Artist News: David Benoit Out Of Yes?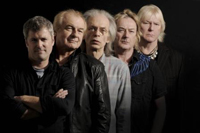 Is David Benoit out of Yes? Yes, it appears so, but if we follow (catch up) on the sequence of events, we'll avoid all the rumours about the whys and wherefors. As posted on the official Yes Facebook page on February 6, 2012: "Prog rock band Yes were forced to cancel the last 3 shows of their European Tour in December due to the illness of lead vocalist Benoit David who has still not recovered. To avoid disappointing their fans on the forthcoming Australasian leg of their world tour, they have found a replacement singer.
"Jon Davison will join Yes as lead vocalist for the upcoming dates in New Zealand, Australia, Japan, Indonesia, and Hawaii. Yes really appreciate Jon Davison joining them for this leg of the tour and are sure this arrangement will satisfy all Yes fans."

So far, there are four dates scheduled, as of December 21:
04/01 Auckland, NZ Vector Arena
04/09 Byron Bay, AUS Bluesfest
04/11 Melbourne, AUS Palais Theatre
04/13 Sydney, AUS State Theatre
Moving forward a few days, we have this: an article published by Sterling Whitaker on February 8 at Examiner.com entitled "Chris Squire comments on Benoit David: 'He has officially left Yes'". In it we learn the following:
"In the wake of Monday's announcement that Yes has hired Glass Hammer vocalist Jon Davison for its upcoming tour dates, bassist and founding member Chris Squire has confirmed that singer Benoit David is no longer a member of the group.

"Yes, he has officially left Yes," Squire said Wednesday in an interview with Noise11.com.

"Jon Davison is coming in because of Benoit's departure. I always hope that when there is a member change in the band that it will be a permanent thing. Only time will tell really," Squire reflected.

Benoit David joined Yes in 2008 after the band discovered him on YouTube singing for a Yes tribute band called Close to the Edge. He initially came in as a substitute for original Yes vocalist Jon Anderson, who was suffering from severe respiratory problems and could not commit to a tour. David made his recording debut with Yes on last year's Fly From Here.
In a follow up article that Whitaker posted, Jon Anderson was not asked to re-join Yes, says he does not talk to Squire, we learn:
Legendary Yes vocalist Jon Anderson has responded to rumors that he was asked to re-join the band recently, calling them "unfounded and false."

In a press statement provided to Examiner.com Wednesday afternoon, Anderson also responded to comments Yes bassist Chris Squire made in an interview Wednesday morning in which he said he wouldn't rule out the possibility of working with Anderson again one day. "We email each other," Squire told Noise11.com. "We have a cordial relationship."

"I haven't spoken with Chris in four years," Anderson said, "and the only e-mail I have received from him in the last three years was him asking for free tickets to my show in Mesa, AZ last week - very sad, but true."

Anderson's comments came just two days after Yes announced it had hired Glass Hammer singer Jon Davison to replace vocalist Benoit David for its upcoming tour dates. David has been suffering from a respiratory ailment that forced the band to cancel several dates in December. Squire confirmed Wednesday that David's departure is permanent. In a bizarre coincidence, David joined Yes in 2008 when Anderson, a founding member of the group, was unable to commit to a tour because of severe respiratory problems.
[And isn't ironic too that Jon was replaced by Benoit, who is now replaced by someone named Jon? Not as much so as the respiratory thing, of course -ed.]
[Source: Yes website; Examiner.com (via a posting by Whitaker to eProg)]