CD/DVD Releases: ''The Beauty Is The Beast:'' Syndone Releases A New Album

Two years after their great comeback on the musical scene with the album Melapesante, the new prog italian band is back with a new concept album. An high voltage symphonic rock album, with the special participation of the Moody Blues' co-founder Ray Thomas on flute.
Syndone prog band presents the new album The Beauty Is The Beast (AMS/BTF 2012, 12 tracks, 46.30 min.). An important comeback for this group led by the composer and keyboardist Nik Comoglio, who put the group together again in 2010 after years of silence. After the Melapesante concept-album, which may be considered like their "starting over album," now it comes The Beauty Is The Beast: a new concept album written by the vocalist Riccardo Ruggeri, based on the symbolism of 1756 Beaumont's tale and open to various interpretations and suggestions. For this new album – fourth in the group's career - Syndone comes back to the trio but with more maturity and fantasy: Nik Comoglio (all keyboards), Riccardo Ruggeri (vocals and lyrics) and Francesco Pinetti (marimba, vibraphone, percussions) are such the "basic personnel" which has orchestrated the whole work creating the best "musical scenery" for the characters interpreted by the vocalist.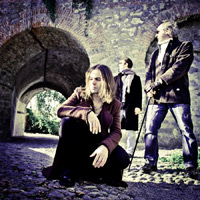 The three musicians avail themselves of several guests, cellos and brass sections included, which render The Beauty Is The Beast a charming and enigmatic modern progressive rock opera, perfectly balanced between energy and elegance, rock groove and studied orchestration. Among the guests a legendary name stands out: Ray Thomas, unforgettable flutist and vocalist of The Moody Blues. The flute recording has been made in England at the recording studio of the popular producer Greg Walsh. The mastering has been made in London at the Abbey Road studios.
Melapesante has had flattering reviews by italian and foreign press: several newspapers/magazines like Jam, Progression, Rockerilla, IO Pages, Arlequins and Koid 9 have appreciated Syndone eclecticism. This gift is even more pronounced in The Beauty Is The Beast, awaited by critics and audiences around the world. Nik Comoglio says: "It's definitely a more mature album with a more rock, richer and even sound than Melapesante; I'm very satisfied with the result achieved because I think we've really hit the target we set when we were writing it: the creation of a concept-album without becoming anachronistic. This work represents our idea of prog music in 2012."
[Source: Synpress 44]