CD/DVD Releases: Steve Hillage Unveils Rovo/System 7 Album & Tour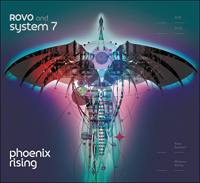 Original member of Gong and prog rock icon, Steve Hillage, has confirmed a new collaborative album and UK tour with Japan's leading progressive rock band Rovo, and his band System 7.
The new album, produced by Steve Hillage and Tatsuki Masuko, is entitled Phoenix Rising and will be released on Monday 23 September, followed by two UK concerts in March 2014.

UK dates include Manchester Ritz (Friday 7 March) and London o2 Shepherd's Bush Empire (Saturday 8 March). Tickets have been available since Wednesday 29 May via Music Glue. Fans will receive a free mp3 download of the 5-track Hinotori EP when they order tickets.
The Hinotori EP has been available as a digital download since Monday 3 June from from iTunes and Bandcamp. A limited edition collectors' CD of the EP is available from www.planetgong.co.uk.
Rovo are a Japanese progressive rock/jam band featuring two drummers, bass and keyboards, led by guitarist Seichi Yamamoto and electric violinist Yuji Katsui. System 7 is the dance music project of Steve Hillage and Miquette Giraudy, presenting a unique combination of tech-house beats and live playing, who have had a strong influence on the development of psychedelic ambient and electronica.
The Phoenix Rising concert will highlight a sophisticated blend of electronic beats and live instrumentation, made possible by the skilled musicianship of eight players, including two live drummers. Hillage fans can be assured that, in the format of Phoenix Rising, his masterful electric guitar style will be fully unleashed, with extensive soloing and duets with the electric violin of Rovo's Yuji Katsui.
The Album
After a groundbreaking tour of Japan in 2011 and a successful Tokyo show at O-East, Rovo and System 7 decided to take the project further by recording a Phoenix Rising studio album.
The album was recorded in Tokyo in September 2012, and was completed in January and February 2013 with overdubs in Steve Hillage's London studio, with final mixing in Tokyo.
Phoenix Rising features original collaborations from Rovo and System 7. It also includes a new arrangement of "Meeting Of The Spirits" by the Mahavishnu Orchestra - a perfect showcase for the album's astonishing blend of guitar and electric violin.
Tracklist: "Hinotori" (Album Version), "Love For The Phoenix," "Meeting Of The Spirits," "Cisco (Phoenix Rising)," "Unbroken," "Sino Dub (Phoenix Rising)," "Unseen Onsen."
Phoenix Rising
The Phoenix (in its Asian equivalent) is a national symbol of Japan. It's a universal concept of the Bird of Fire that rises again and it has particular resonance after the terrible events in March 2011 that continue to place a dark shadow over Japan.
This project promotes Japan's rebirth, and is supported by Rumiko Tezuka whose father Osamu Tezuka created the iconic manga series Hi No Tori (literally Bird of Fire in Japanese), and also features elaborate artwork and video visuals created by Mood Magic (who made the System 7 videos) and video animator and artist Koji Morimoto (Animatrix).
Musicians:
Steve Hillage [Guitar – Programming]
Miquette Giraudy [Synthesiser]
Yuji Katsui [Electric Violin]
Seiichi Yamamoto [Guitar]
Yasuhiro Yoshigaki [Drums]
Yoichi Okabe [Drums – Percussion]
Jin Harada [Bass Guitar]
Masuko Tatsuki [Keyboards]
[Source: Noble PR]