Festival News: You Can See Prog At SeaProg 2014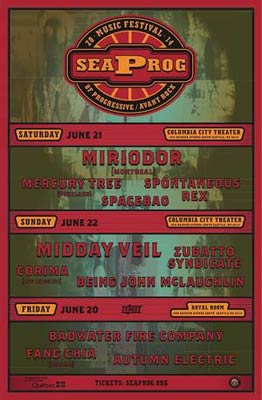 The second annual Seaprog festival of progressive/art rock will take place Saturday-Sunday June 21-22 at the historic Columbia City Theater, with a free kickoff event on Friday, June 20 at the Royal Room. Tickets are now on sale at www.brownpapertickets.com/event/588202.

Organized by Seattle musicians, Seaprog's focus is on progressive music of the here and now rather than the florid "prog" stylings of yore. Following last year's highly successful debut, the 2014 festival will present more than a dozen remarkable bands whose diversity of approach illustrates just how far progressive rock has evolved since its origins in the 1960s.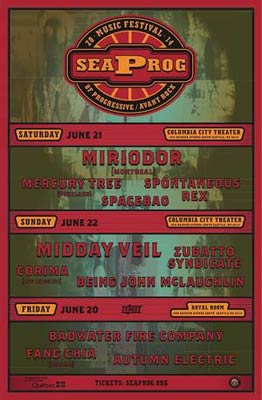 Seaprog's emphasis is on the resurgent Northwest progressive music scene, augmented by some of the top creative bands active in the more adventurous reaches of the genre today. This year's artists include Quebec's legendary avant-rock unit Miriodor, Seattle space-rock sensation Midday Veil, "Zeuhl" channelers Corima (Los Angeles), The Mercury Tree (Portland), Fang Chia (Tacoma), and exemplary Seattle bands Zubatto Syndicate, Being John McLaughlin, Spacebag, Autumn Electric, Badwater Fire Company, and Spontaneous Rex, with additional smaller acts in the theater's front bar between the main sets.
Conceived as a destination event rather than just another gig, Seaprog invites listeners to spend a weekend enjoying stimulating and intelligent music and visiting the many fine restaurants, bars, and shops in Columbia City.
We invite you to help us build on [last year's] success by attending this year's edition, which promises to be every bit as stimulating. Please consider showing your support for the local community by purchasing a modestly priced weekend pass. We also invite you to view the following three nifty Seaprog promotional videos created by Scott Pinzon and Bill Crew. Many thanks for your support - hope to see you at the festival!
What To Expect At SeaProg
Why We Created SeaProg
What Is Prog?
[Note: SeaProg is not responsible for the headline, that you can credit/blame ProgressiveWorld.net's news editor -ed.]
[Source: SeaProg]