CD/DVD Releases: News Bits: Glass Hammer, Izz, Magic Pie... more
The Whinery Dogs (Richie Kotzen - lead vocals/guitar, Mike Portnoy - drums, Billy Sheehan - bass) entered a Los Angeles recording studio in June to start work on the follow-up to their debut album, which will be self-produced and released in North America this fall on Loud & Proud Records via RED (a division of Sony Music Entertainment) and in the rest of the world via earMUSIC.
Fans are already getting news about the band's fall U.S. tour, which is set to kick off October 3 in Ridgefield, CT at the Ridgefield Playhouse.

[From the band's website - the album will be called Hot Streak (album artwork at left), pre-orders are being taken now for the October 2 release -ed]
[Source: ABC PR]
----------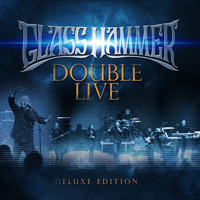 This past March, Glass Hammer released The Breaking Of The World, their 15th studio album. But already a live album is on the horizon - Double Live, which was recorded at this past May's RoSFest. Pre-ordering for autographed copies will start soon for the October 6, 2015 release [announced Aug 3, but as of Sep 2, no update -ed.]. The deluxe package contains 2 CDs and one DVD. Watch a trailer here.
[Source: Glass Hammer website]
----------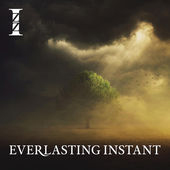 Another new release we missed mentioning during yet another hibernation was Izz's Everlasting Instant, the third in their trilogy that began with The Darkened Room (2009) and continued with The Crush Of Night (2012). Watch a video of "Can't Feel The Earth, Part IV" here.
[Source: Izz website]
----------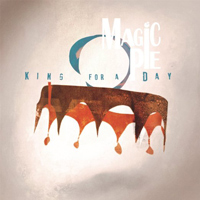 Somehow we also missed that Magic Pie released a new album this past May (on vinyl in June), King For A Day. The band signed to Karisma Records in March; the label will reissue the band's back catalog (Motions Of Desire (2005), Circus Of Life (2007) and The Suffering Joy (2011)). Watch "Trick Of The Trade" here.
The band will performing next at the Summer's End Festival at The Drill Hall in Chepstow, England. Also on the bill: Celestial Fire (Dave Bainbridge project), Abel Ganz, Simon Godfrey, Pallas, Discipline, 3rDegree, Light Damage, The Fierce and the Dead, Mystery, Credo, Introitus and The Gift.
[That vid is playing right now - heavier than I remember MP being; sound a bit like classic Spock's Beard, a hint of Izz (coincidence, I think and not just earworms playing tricks); I like it -ed.]
[Source: Magic Pie website, Summer's End website]
----------
FM released in April/May a new album, Transformation, via Esoteric Antenna. Excerpts from Esoteric's website: "With its roots firmly planted in late Seventies progressive rock -- complex rhythms, driving bass lines, soaring melodies -- the music on Transformation is symphonic in scope with not one, but two violinists on board.
"Co-founder and bass player/keyboardist Cameron Hawkins is joined by drumming legend Paul DeLong (Kim Mitchell, Roger Hodgson), viola/mandolinist Edward Bernard (Druckfarben) and violin virtuoso Aaron Solomon on nine, brand new compositions mixed by world-renowned producer/engineer Terry Brown (Rush, Tony Levin Band, Fates Warning, Dream Theater).
"Following on from the recent successful re-releases of their first four albums, including the landmark recording Black Noise (from 1978), Transformation sees FM continue their 'thinking man's exploration' of progressive musical ideas, innovative arrangements and provocative lyrical themes."
[Source: Esoteric]
----------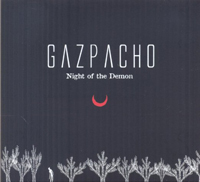 In April, Gazpacho released their live 2CD/DVD set Night Of The Demon, recorded at Boerderij in Zoetermeer, NL on their tour in support of their 2014 release Demon. This is out from Kscope. Watch "The Wizard Of Altai Mountains" here.
Gazpacho will play several dates in Europe in October/November, Iamthemorning supporting, coinciding with the planned release of their next studio album, Molok.
----------
Some new releases from Musea Records (either their imprint or distribution) include these prog releases: King Crimson - The Collectors' Club Series - Live In Guildford - November 13, 1972; two Kaipa reissues (released by Tempus Fugit in Germany) -- Kaipa (remastered with bonus tracks) and Inget Nytt Under Solen (remastered with bonus tracks); The Poetry Of Illusion - Le Pick Clops (collector's edition comes with a complimentary high-res download of the film Le Pick Clops along with a booklet of essays on the film and music); Arcane Atlas - Constellation Plus (eclectic mix from jazz to pop); Saelig Oya - [Chaos - Chaos] (young French band coming from the city of Le Mans, made up of singer Hélène Pean, guitarists Nicolas Fournier and Dimitri Even, bassist Adrien Rogowski, as well as drummer Elie Cheron).
Plus from Gonzo, there's Karnataka - Secrets Of Angels; Hugh Hopper - Volume Six - Special Friends; Hawkwind - Space Ritual Live (2CD and 2CD/DVD versions), Mick Abrahams - One and See My Way; Merrell Fankhauser - Signals From Malibu; Inner City Unit - The Maximum Effect, Al Atkins & Paul May - Anthology
From Sireena Records: Birth Control - Live Abortion Plus, Streetmark - Dry and Sky Racer, Pee Wee Bluesgang - Absolutely Live, Der Moderne Man - Live At The Rockpalast (DVD), Soft Machine - Drop (limited edition in coloured vinyl), Sun Temple Circus - Sun Temple Circus (Limited Edition)
Among those from Red River: Cactus - Long Island New York, 1971, Rush - Keil Auditorium, St. Louis, Missiouri, 14 February 1980,
[Source: Musea Records]
----------
Pleasantly surprised by the snippet of "In Precious Time," the flipside of the new 7" single from Noctum. Seeing it identified as heavy/doom... well, sometimes heavy means "cookie monster" vocals (or something even less identifiable as vocals), I expected something... else (black metal, I guess). But no, the snippet was clean vocals and, at least to me, peppier than I'd expect from doom. Anyway, um, the press release is just that Noctum recorded to new songs, the first being "Until Then...Until The End," which is the A-side, and the title of the release, to boot. It features the band's new guitarist, Christoffer Löfgren. The band is currently supporting Steelwing on string of dates this week and next in Europe.
[Source (but few of the actual sentences): Metal Blade]