Artist News: New Frontiers For Frontiers Music Srl
Over the last few months, Frontiers Music Srl has announced a number of signings, starting in March with the news that they had signed DGM - "Band guitarist and producer, Simone Mularoni says: 'We are really excited to start this new journey with Frontiers Music Srl! We feel blessed and honoured to see our name close to the bigger acts of the rock scene we all love and to be part of a label we follow since the beginning of its career. In particular we think this new album perfectly suits the path that Frontiers pursued over the years, since it's extremely melodic, epic but in the same time with all the usual DGM's trademarks! We cannot wait for all of you to listen to the new songs and to meet everyone on the road!'" New album out late summer.

In early April, they announced the signing of Secret Sphere for a multi-album deal. "[Guitarist] Aldo [Lonobile] commented: 'As fan of Frontiers for many years, I'm very excited to work with them! It's such a great honour to read Secret Sphere name alongside many of my idols. Currently we are working on the final touches of our release Live In Tokyo, recorded during the headlining tour of Japan and the writing process for the new album is running smoothly. There is a huge message behind the new music again and we are focused more than ever to deliver the best Secret Sphere album to date!!! Later in 2016 we will be again on tour."
[Vocalist] Michele [Luppi adds]: "I'm truly happy to get to work again with the Frontiers family after 7 years. We are determined to write the best Secret Sphere album ever – get ready!"
Live In Tokyo will be released in Fall 2016 with the new album planned for early 2017.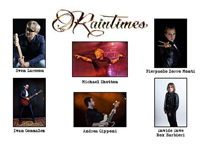 The other April signing was new melodic rock project Raintimes -- featuring Pierpaolo "Zorro" Monti (Charming Grace, Shining Lane), Davide Barbieri (Wheels Of Fire, Charming Grace), Michael Shotton (Von Groove), Sven Larsson, Andrea Gipponi and Ivan Gonzalez -- who will release their self-titled debut in 2017. "Raintimes is an album that I really wanted to use as a tribute to show my love and admiration for The Storm," says Pierpaolo Monti. "I have played to death their two albums (especially Eye Of The Storm): their mid-tempos, steeped in pure melodic class, are the perfect crossroad between AOR and Melodic Rock. The choice of Shotton as frontman however was based not only on my admiration for his talents, but because I wanted to give a strong personality to the album and make the music more personal and original."
A few demos were sent to the attention of Frontiers President Serafino Perugino, who was really excited with what he heard and decided to give a chance to these talented guys from Northern Italy.
"I'm absolutely thrilled about this partnership with Frontiers," says Zorro. "We are still finding it hard to believe that Raintimes will be part of its great roster, which features some of the most iconic and influential artists of the past and present international rock scene." "Frontiers represents with no doubts a big step forward in our careers," Dave adds. "We're absolutely honored to release our debut album under this renowned brand, which is well-known for offering premimum quality rock music to all the fans worldwide!"
Los Angeles-based hard rock band Bulletboys were also signed in April.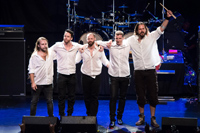 In May, the Swedish progressive metal band Seventh Wonder joined the roster, returning after a hiatus prompted by vocalist Tommy Karevik taking over vocalist duties for Kamelot. The band will release a live album soon, comprised of their performance at ProgPower USA 2014. A new album is expected in 2017.
"Bass player Andreas Blomqvist states: 'It has been too quiet in the Seventh Wonder camp for far too long - and FINALLY that is about to change! Many years have passed since we last put out a record but, finally the band is a fully functioning unit again, ready to create some great new music. As we were getting ready to get back on track we also needed somebody to partner with. Somebody who shared our vision for the band and saw our potential and was willing to commit to the band. We have found that somebody in Frontiers! We are thrilled to be on board with such a famous label with many of our favourite bands on their roster. You, the fans, have been more patient than anyone could ever deserve. We are equally proud and humbled by that and we promise to do our best, together with our new friends at Frontiers, to make up for the years of silence by going full speed ahead. And you know what? The new album is sounding great!'"

And most recently, they signed a recently reunited Snakes In Paradise, who are set to release a new album in 2017. "'And it was until this day, that the rumors became true… There will be a new Snakes In Paradise album," says singer Stefan Berggren. "With our old albums taking a life of their own we have to thank all the fans and people who made it happen. Guess the hard work paid off in the end. And for the first time we are all in alignment with the right time to release it, with record label Frontiers Music Srl. And we believe it is the right label for our music. The new record will be in the shops in the beginning 2017. Stay tuned!!'"
[Source: Frontiers Music Srl]