Artist News: News Notes: ProgPower USA, Pineapple Thief, The Enid, Opeth, Epica...
Some quick bits of news prog, prog-metal, and prog-ish (ish):
The band's hadn't even finished playing when ProgPower USA announced the lineup for 2017! (Honestly, that's not unusual, as Glenn Harveston has done that for many years). So, who is on the bill for 2017? The surprise is probably Angel Dust, who last released an album in 2002 - On Human Bondage - though it seems that some attempt to record an album was made. As their website is presently just the "splash page" and they've no Facebook presence, what their appearance foretells, who can say. But, their appearance at PPUSA XVIII will be a US exclusive.
Also on the bill are Amaranthe, Distorted Harmony, Dynazty, Katatonia, Lords Of Black, Myrath, Pain, Mike Portnoy's Shattered Fortress, Snowy Shaw, Sunburst, and Teramaze

ProgPower USA XVIII will take place September 8 - 9, 2017 at Center Stage in Atlanta, GA. This year's festival had some preshows, so I expect the festivities will actually start September 6 or so - will have to wait until the official website updates (but will grant the PPUSA folks some downtime, as PPUSA XVII just ended yesterday!).
----------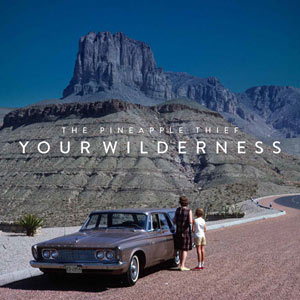 Another news nugget: We missed noting that The Pineapple Thief released a new album in August, on August 12 to be exact (August 19 in France) via KScope. Your Wilderness is the group's 11th release and features some special guests -- Gavin Harrison (drums), John Helliwell (clarinet, Supertramp), Geoffrey Richardson (string quartet, Caravan) and Darran Charles (guitar, Godsticks). "You've never heard a The Pineapple Thief album like this one! I am convinced people will love this record as much as we do," says chief Thief Bruce Soord. It is a concept album to which "Carl Glover's thought-provoking collection of photographs perfectly compliment the concept of the album, [a concept that...] Soord is tight-lipped about. 'It should reveal itself to the listener and be open to interpretation. I don't want what it means to me to influence how it affects you.'"
----------
As reported at the Prog Magazine website, vocalist Joe Payne has left The Enid, due to personal reasons - his health. Other changes in the Enid line up include Max Read retiring from touring with the band after their current string of shows ends, though will continue to help the band. Drummer Dave Storey is on medical leave, as it were, for hip surgery; seeing out the run of UK dates in his stead is Dominic Tofield.
Those dates are: Sep 22, The Fleece, Bristol; Sep 23, Arts Centre, Pocklington; Oct 1, Court Theatre, Tring; Oct 4, The Musician, Leicester; and Oct 6, The Ferry, Glasgow.
[Source: Prog, The Enid website]
----------
Opeth released a lyric video for the song "Will O' The Wisp" from their upcoming album Sorceress (due out Sep 30 from Nuclear Blast) ... (see below) it is an acoustic/folky tune that has them sounding a bit like Jethro Tull! At least that was my thought, mostly in the cadence of vocalist/guitarist Mikael Åkerfelt. It is, actually, a quite lovely track that will also appeal to those who like the softer side of progressive rock though I know Opeth aren't labelled soft, or progressive rock - progressive metal maybe, but not rock... even if they venture that way on occassion.
Quite different, in that is more rock and metal, is the title track. It is at times noodly, at other times heavy and harsh, a bit angular... and a bit psychedelic for all that.
----------
"Swedish melodic nu-metallers Rednote to release their new album (EP) Born Days In Continuum - Chapter 1: Unity on September 16, 2016. A video teaser of the new release can be viewed here.
"Born Days In Continuum is a journey through the minds of people searching for who they are and where they belong, where every chapter represents a stage or one part of a never ending circle. ... Chapter 1: Unity is the stage of a new beginning. You feel like you belong, embracing every new impression with confidence. But a voice from the past will make you question and turn your back on everything that's good. You can't see what you've got until it's gone.
Tracklist: Repeat / Yesterday Has Come / Tranquility / Elevate / Jenga
...Chapter 2: Animus, ...Chapter 3: Division and ... Chapter 4: Limbo to be released at a later time.
"Rednote started as a four piece band and has released one album, Numerals (2014), two singles, 'A Universe in You' (2014) and 'Moneyman' (2015). As for 2016, Rednotes's drummer, Joakim Dahlström took yet again the role as producer for their new project called Born Days In Continuum. With new experiences and this time with their former guitarist, Jonatan Persson as their full-time singer, plus a new member onboard, Rednote will be taking their music to the next level.
Rednote is:
Vocals - Jonatan Persson Drums - Joakim Dahlström Guitar - Simon Sundberg Bass - Simon Åberg Guitar - Dennis Mårtensson
[Source: Rock'n'Growl Promotions]
----------
Even further far afield from a prog-minded esthetic are Suicide By Tigers, but listening to the first single, "Vicious Malicious," from their self-titled debut, which came out on September 2 via Smilodon Records/Sound Pollution, not too shabby methinks. Blues-rock, and on this track, a bit sludgy sounding - slow-groove is what I mean, not poor production. As the press release says, "Just like the British bands Free, Taste and Led Zeppelin they move from Light and Shade to Tight and Loose. Let the production and music making live!"
Suicide By Tigers is: Nils Lindström – vocals; Petter Rudnert – guitar; Peter Broch - bass; Johan Helgesson – drums and percussion.

[Source: via Rock'n'growl]
----------
Epica's new masterpiece The Holographic Principle will be available in stores in about three weeks' time. In anticipation of this album, a new music video for "Edge Of The Blade" has been launched today!
Commented Coen Janssen (synths, piano): "Finally another video! We are very happy with the way it turned out! It gives a glimpse on what to expect from our upcoming live shows, so watch it a few times because I'm expecting to see you sing along with it soon!"
Pre-order The Holographic Principle now: Nuclear Blast or Epica Webshop
[I like it, lots of energy and epicness about it (no near-pun intended); but it feels like the vocals for the verses are mixed too low... at least on the video; that may not be true for the CD itself -ed.]
[Source: Nuclear Blast]
----------
Modern rockers Another Lost Year released their latest album Alien Architect on June 10th via Mirage M'hal Records/EMP/eOne (US), August 12 via EMP/SPV (Europe). Listening to/watching the first track, "We All Die Alone," they have a nice sound... they're not unlike a lot of their modern rock counterparts. Having been listening to a lot of rock of late, I find many sound samey. Not bad or anything, just... as I've said elsewhere, have to look to see who it is. But if'n your tastes range wide, you might want to give them a listen.
You can watch the video here.
Another Lost Year will join ShipRocked, set for January 16-20, 2017 onboard Carnival Victory. They will join headliner Breaking Benjamin*a band I have come to like - at least on their latest Dark Before Dawn where they make me think of RPWL!*along with Papa Roach, Alter Bridge, Sevendust, Pop Evil, The Stowaways all-star band and more on The Ultimate Rock 'n' Roll Cruise as it sails from Miami, FL to Grand Turk in the Turks & Caicos Islands.
[Source: details - Rock'n'Growl Promotions]
For those who like a little jazz, or jazz-rock, may I share with you Wolf! (the exclamation point is in the name, Wolf!, not me overly excited... though yeh, this is some cool stuff!). The band were in the studio together to record this, "Pork 'n' Slaw" - in one take they say; there is a recorded-live vibe to it for sure. It has that intimate essence that makes you feel like you're at the front table of the club; all that's missing - and yet not missing - is the sound of clanging plates and ice in glasses adding to the ambiance.
The track was premiered via Guitar World and you can listen to it here. The album, 1-800-WOLF!, will be released October 14 via Royal Potato Family. The group features guitarist Scott Metzer, bassist Jon Shaw, and drummer Taylor Floreth.
Or there's the horn-focused jazz of Moon Hooch - whose sound here on "Low 5" reminded me of Traffic, specifically of "Freedom Rider," mostly in the use of sax. See if you agree; watch it here.
Moon Hooch released Red Sky, their third album, this past June. They are a trio*Mike Wilbur, horns; Wenzl McGowen, horns; and James Muschler, drums*who will be on tour in the US this October.
[Source: facts - Calabro Music Media; rest - us]

Chilean progressive rock band Hominido wrote to tell us the following: "We are very proud to announce the release of our second production titled Alados. Alados is a conceptual album about birds from Chile. It deals about how the personalities from the birds can be related to human characteristics."
You can listen to the full disc and purchase it at the band's Bandcamp page. The physical disc will be available on 24th September. [Listening to the first track, "Tenca" right now - mellow, understated progressive rock... while I've no one specifically to compare it to, fans of modern progressive rock bands who aren't afraid to have a touch of commercial appeal will probably like this. I will say RPWL, Porcupine Tree, Frost*, all came to mind... but in very fleeting ways -ed.]
----------
Working with PledgeMusic, Amored Saint are financing the release of a new live album - yet to be titled. There are various configurations and bundles you can pre-order/pledge toward at various pledge levels: signed vinyl ($45); signed CD ($25); a signed test-pressing vinyl ($150); signed vinyl, exclusive t-shirt plus AccessPass (a download of the album) ($70); signed CD, t-shirt, AccessPass ($50); t-shirt and AccessPass ($30); and just the AccessPass ($10), among an array of other products. The Phil Sandoval signed ESP Guitar ($1,500) and Joey Vera signed ESP Bass Guitar ($1,500) have gone and, as of this posting, the Jeff Duncan signed ESP Guitar ($1,500) has just one left.
The band will be on a US tour with Queensrÿche and Midnight Eternal this November/December.
[Source: fact of - Metal Blade; details - gleaned from the PledgeMusic site]
----------
Coming to DVD and digital formats on September 23 is Justin Hayward - Live In Concert At The Capitol Theatre. Heyward is the vocalist/guitarist from The Moody Blues, and several Moody classics are included in this release, including my favourites "Tuesday Afternoon," "Question," and "Nights In White Satin." "This intimate performance from October 20, 2014 (Clearwater, FL) has been expertly captured by award winning filmmaker & composer David Minasian. It is truly one of Hayward's finest solo performances." The DVD, which includes the epic bonus music video "The Wind Of Heaven," can be pre-ordered now at the MVD Shop.
Track Listing:
Tuesday Afternoon
It's Up To You / Lovely To See You
In Your Blue Eyes
The Western Sky
You Can Never Go Home
Watching And Waiting
I Dreamed Last Night
One Day, Someday
The Eastern Sun
December Snow
What You Resist Persists
Your Wildest Dreams
Forever Autumn
Question
Nights In White Satin
I Know You're Out There Somewhere
Blue Guitar (bonus track)
Who Are You Now (bonus track)
The Wind of Heaven (bonus track)
[Source: MVD Entertainment Group]
----------
Andy Timmons Band will release Theme From A Perfect World on September 30 via their/his own label, Timstone Records. The new album contains 10 melodic guitar instrumentals. "First and foremost, I'm really proud of these songs," Timmons says. "Some of them don't even have a guitar solo per se -- which is kind of unusual for an instrumental guitar record, but that underscores the importance of the idea that a good song has to be there right from the start. It has to be something that people identify with and find themselves wanting to listen to over and over."
Timmons' band includes longtime bassist Mike Daane (who co-produced the album with Timmons), and both Rob Avsharian and Mike Marine who each contribute drums to different tracks.
The Andy Timmons Band will be on a US tour this October with Travis Larson Band for most dates.
[Source: ABC PR]
----------
Pair of briefer notes: Steve Hackett spoke at and received the FIM 2016 Legend of Rock Award on September 10 at Erba near Como, Italy... Visigoth will embark on a headlining west coast trek dubbed "Warstorms Over Western Shores" this October, which culminates at the "Frost & Fire Festival" in Ventura, CA....