CD/DVD Releases: Adagio Go Indiegogo For Fifth Release Don'tcha Know
Couple of news items stuck in our "hopper"; here's the first: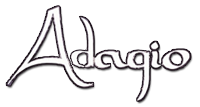 Adagio are working on their fifth album, Life (due December 2016), and have launched an Indiegogo campaign to finance the production. There are various options you can pledge toward, such as the VIP Album Bundle - Autographed Live vinyl and digipack plus Life demos* and stem files, a Life shirt, a Life cloth flag, a Dominate limited edition shirt, an Adagio USB, special thanks in the booklet, a personal video message from the band and Life digital download. Only €125 (or, at today's exchange rate, it'd be $140.31 - for those in the US**).

For €10, you can get the Life Digital Download; for €20 you can get the autographed Life CD, a personal invitation to the release party show in Paris (transportation and accomodations not included), and the digital download. €60 will get you the Adagio USB, Life shirt, autographed digipack, digital download, and the personal invitation. Or for €15 more, there's the Life Girl Bundle (no girls included) that is an exclusive Life girlie shirt and Adagio thong, Lulu Inthesky postcards, Life cloth flag, personal invitation to the Paris show, autographed digipack and the digitial download. If you are particularly flush, a €200 contribution will get you not only the Life digipack but a handwritten music or lyric sheet of a song from the album (you choose Stéphan, Franck or Kevin). €350 gives you the chance to have St´phan record a solo for one of your songs (in addition to the show invitation, special thanks in the booklet, the autographed digipack and digital download). Well, it just keeps getting more elaborate at the higher levels... Visit their Indiegogo page for those details, as most of those are very, very, very limited.

[Source: Adagio Indiegogo page]
*wouldn't that be great! Play around in a life demo, make all your mistakes there, and so get everything right in the production version?.... ** I didn't do the rate exchange for other regions or for all price points.... but I am responsible that headline -ed.