Concerts: Rhapsody To Reunite On Tour In 2017
If you recall, some years ago there was a band called Rhapsody. They changed their name to Rhapsody Of Fire in 2003 due to some sort of name-conflict with the Rhapsody music service. Then the band split in 2011 ... but in the unusual way of splitting into two, not just all going their separate ways. Rhapsody Of Fire continued with some members, Luca Turilli's Rhapsody with others (noticeably, of course, Luca Turilli, Rhapsody's/ROF's main composer). That's the rather spotty "Cliff Notes" version of the "story so far." Each thread has released music since the cleaving -- ROF with Dark Wings Of Steel (2013) and Into The Legend (2015); LTR with Ascending To Infinity (2012) and Prometheus, Symphonia Ignis Divinus (2015) (a reissue called Prometheus, The Dolby Atmos Experience + Cinematic And Live is due on December 9, marking the first studio album remixed in Dolby Atmos - we'll talk about that later).

Well, a few days ago Rhapsody announced their "20th Anniversary Reunion Farewell Tour." This will reunite vocalist Fabio Lione (who recently left Rhapsody of Fire, as it happens), guitarist/keyboardist Luca Turilli, guitarist Dominque Leurquin, bassist Patric Guers, and drummer Alex Holzwarth (Leurquin and Guers followed Turilli to LTR, Holzwarth remained with ROF). Seemingly not part of this tour is Alex Staropoli (keyboards), but time remains, so that could very well change. No inside info on that, just our subjective observation.
This temporarily reunited band will perform music from their entire catalog (at least their joint catalog). No set-list has been announced, by in the press release from Luca Turilli's Rhapsody, Turilli does say "I am really super excited to be part of this unique and special event together with Fabio and my other friends. The fact of playing legendary songs like 'Wings Of Destiny,' 'Beyond The Gates Of Infinity' and 'The Dark Tower Of Abyss,' never played on stage before, will be the best way to celebrate the 20th Anniversary [...]." The band's first release was Legendary Tales (2007), which our own Larry "LarryD" Daglieri reviewed at the time (re-published here in 1999).
From the press release: "Initially baptized in the 'Hollywood Metal' style, because of its movies-related fascination and its characteristic epic soundtrack elements, the Italian band established itself as one of the biggest names in Symphonic Power Metal thanks to their second release Symphony Of Enchanted Lands, which soon became a classic of that music genre. Rhapsody's main influences also include classical composers such as Vivaldi, Bach, Beethoven, Paganini and many others (the song "The Wizard's Last Rhymes" from Rain Of A Thousand Flames, for example, is based on Antonín Dvo&rcaret;ák's "New World Symphony"). These elements made the band clearly unique in the whole heavy metal scene and, thanks to its magic, gathered lots of fans all over the world and inspired many bands, giving birth to a brand new musical wave and genre, that established a real and effective Rhapsody imagery. The 20th Anniversary Farewell Tour will represent a last chance for everyone to feel part of that wonderful magic once again. Luca, Fabio, Patrice, Dominique and Alex will celebrate such important and historical event with and for their amazing fans!"
So... when, where, how? Well, for one, this reUnion has its own Facebook page: www.facebook.com/rhapsodyreunion/ where you can track what's going on. One upcoming appearance is at the Sweden Rock Festival in June 2017, but as yet, no tour dates have been announced.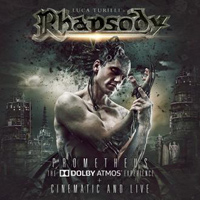 But, let's return to that Dolby Atmos bit. From an earlier press release from Nuclear Blast:
"But what actually is Dolby Atmos? Cinemas discovered this new format and integrated loudspeakers in their ceilings to place the listener into an 'acoustic honeycomb.' 'This novelty has now reached the home technology and we at Yamaha wanted to support the project of Luca Turilli's Rhapsody with an audio-bluray-disc in Dolby Atmos,' Michael Geise from Yamaha explains. 'It's a very thrilling challenge and makes this release a vivid and new experience. And since we are always looking for new contents, the cooperation with Luca Turilli was a great idea for us. Dolby Atmos is already included in our receivers and the customer can immediately use it - but so far only few releases support this new format and usually it is only available for films, not for music blurays. But now it is and we created a medium that could easily bring instruments to life, without any artificial effects. We had the know-how to turn this performance into a real live experience with our loudspeakers, receivers and the new sound bar that brings the musicians almost right into everyone's living room!'
"This unique package will be completed by two brand-new live CDs, which were produced by Luca Turilli and Alex Landenburg, mixed by Christian "Moschus" Moos at Spacelab Studio (Grefrath, Germany) and mastered by Simone Mularoni at Domination Studio (San Marino).
"'Cinematic And Live is the first live product to be released by my Luca Turilli's Rhapsody band and represents the live album I always dreamed of. It was recorded in Italy, France, Germany and Spain in 2012 and 2016 and it almost includes all the songs played by Luca Turilli's Rhapsody until now. We recently played our show number 100 and this important release represents the perfect celebration for these last years of live activity around the world. Cinematic And Live features songs from both the Ascending To Infinity and the Prometheus cinematic tours and it includes over 120 minutes of Rhapsody music: the newest songs, the old classics and some titles from my solo discography, too. The mix of Christian "Moschus" Moos and the mastering of Simone Mularoni were the cherry on the cake for this live album sounding really powerful, soulful and emotional like no others, with the important live atmosphere adding a new and exciting dimension to Luca Turilli's Rhapsody's cinematic music!'"
As mentioned above, Fabio Leone left Rhapsody Of Fire, that was in September. Last week, the new ROF vocalist was announced - Giacomo Voli.
[Source: Luca Turilli's Rhapsody, Rhapsody of Fire, Nuclear Blast]