Artist News: Allan Holdsworth Passes Away At 70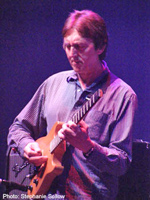 Sad news to learn that legendary guitarist Allan Holdsworth has passed away this past weekend at the age of 70. The folks at Prog magazine published a tribute, written by Malcolm Dome; you can read it here.
The family launched a GoFundMe campaign to help cover funeral expenses at: www.gofundme.com/allanholdsworthmemorial.
Holdsworth was part NEARFest 2007's Progressive Arts Showcase, where I saw him perform with Chad Wackerman (drums) and Jimmy Johnson (bass) - my recollection was a good but static performance. I do not have any anecdotes to add. Nevertheless, it is always sad when someone passes at any age; and in a year plus, it seems far too many music figures are passing.
[Photo: © 2007 Stephanie Sollow]