CD/DVD Releases: Fish Shares Update On Upcoming CD 13th Star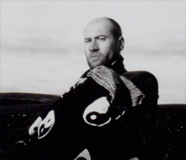 Fish writes, "13th Star is coming at us at the speed of light! Drums, percussion (Dave Haswell), keyboards, lead and rhythm guitars and of course the bass parts are all down on tape and yours truly is about to begin his fifth vocal today. Already completed with lead vocals are 'Miles De Besos,' 'Square Go,' 'Circle Line' and 'Dark Star.' I was being put through the paces on 'Manchmal' and 'Zoe 25' (formerly 'Micklegate') today. Toughest ones so far! Calum is making me work and really concentrate on performances. He has been a brilliant addition to the team and with Steve Vantsis really doing his homework in the early stages of demos and paying attention to sounds and parts in advance, it has meant we are still ahead of the game despite the obvious traumas in my life which affected us all here.
I fell behind a bit on the last two lyrics as my head was totally fragged last week but I am now pulling it together and should have 'Arc Of The Curve' and 'Where In The World' in place by mid week and the principal lead vocals finished by next Sunday when the band start rehearsals at the Scout Hall in preparation for the first gig in Germany on the 14th. We will be flying by the skin of our pants that night as there is no time for warm up gigs. Bit of an edge makes it more fun :-)
I am still putting the set list together and I think the first few festivals will have experimental sets as we will be obviously trying out the new material within the older songs and the Clutching numbers. I am considering a couple of hefty re arrangements on 'Just For the Record' and 'Tux On,' but all will become more clear as we hit the rehearsal rooms.
The recordings we have made are phenomenal and anyone who heard the 'Fish on Friday' show last week will have heard the huge leap forward on 'Arc Of The Curve.' It is an exceptionally strong body of work and I think my best album to date. (My final 'Fish on Friday' is this week with the repeat 'Another Fish Supper' on Sunday between 7 and 9pm! I am really going to miss the shows!) Calum will be recording backing vocals and end takes on lead vocals during the first week of rehearsals. He expects to have the album mixed and mastered by the end of July and that means a release on mail order in mid August, all things going well."
[As a brief addendum -- since this is not the
Inquirer
,
People
, or
Sun
(or whatever gossipy daily-weekly you find - avoid - in your country -- the Fish & Heather wedding is off, as of this time last month. That's the "obvious traumas" to which he refers -ed.]