Nightwish DVD Goes Platinum
Date: Monday, June 30 @ 01:00:00 UTC
Topic: Band News (tours, comings/goings, etc)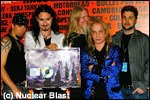 Finnish superstars Nightwish have been honoured with a platinum award for their End Of An Era DVD, which has sold more than 50,000 units in Germany so far. This DVD contains the very last show with former singer Tarja Turunen and was released 2006. The award was presented to the band at this year's Rock Am Ring festival, where the band played a fantastic show on the main stage in front of more than 80,000 people.
Their last effort, Dark Passion Play, was awarded with gold for more than 100,000 sold units one week after its release in Germany in September 2007. After an US Tour together with label mates Sonic Syndicate, the band is about to headline some of Europe's biggest festivals before going back to the US with Sonata Arctica! Pictured above, from left to right: Jukka Nevalainen, Tuomas Holopainen, Marko Hietala, Emppu Vuorinen, Florian Fink (? Nuclear Blast)