Pendragon Announced For Subtacto ProgFest 2007
Date: Sunday, December 17 @ 19:26:47 UTC
Topic: Festival News


We are happy to confirm that the English band Pendragon today has been confirmed for the Subtacto Progfest 2007.
Pendragon really doesn't need any introduction for progressive rock fans, and it's for sure that they will be a exciting and valuable addition to our festivals line-up.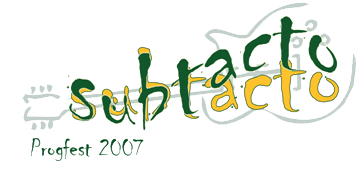 We are also proud over the fact that this will be the bands first performance in Norway, about time! We hope that it will not take 23 years until next time the band visits Norway!
Pendragon released their first album back in 1985, The Jewel (some tracks already released the year before as the EP Fly High Fall Far), and their last album so far is Believe in 2005.
They also have a live DVD out named And Now Everybody To The Stage.
Pendragon joins the already confirmed line-up of A.C.T (Sweden) and the three Norwegian bands Magic Pie, White Willow and Wobbler. Three more bands are expected to join the final line-up.
The Subtacto Progfest will be held at the world famous venue Holmenkollen in Oslo, Norway Saturday 4th of August 2007.