Orphaned Land: New Trailer Available For Debut DVD ''The Road To Or Shalem''
Date: Sunday, October 16 @ 16:20:00 UTC
Topic: Album Release News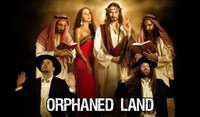 A second video trailer is now available to preview premier Middle Eastern progressive metal crusaders Orphaned Land's debut DVD, The Road To Or Shalem. Click here to check it out.
The compelling live performance DVD will be released in North America on November 1st via Century Media Records. The DVD documents the band's incredible mission to unite warring factions in their home region through the power of music. Filmed in Tel Aviv, Israel in December, 2010, The Road To Or Shalem features nearly two hours of live performance, as well as a 2nd bonus DVD. The bonus DVD material includes additional live footage, a behind-the-scenes documentary and video clips.

Formed in Israel two decades ago, Orphaned Land's unique style of Middle Eastern progressive metal or Jewish Muslim metal has amassed a huge fanbase of both Jews and Muslims worldwide. The band's signature sound features multilingual vocals (English, Hebrew, Arabic, Yemenite and more) along with standard instruments, as well as countless Oriental and traditional instruments such as: saz, santur, Arabian flutes, bouzouki and cumbus. The result is an exotic, heavy and fascinating mix. Orphaned Land live shows feature flags from both Israel and Lebanon prominently displayed, with fans from all ethnic and religious backgrounds singing along in both Hebrew and Arabic. These same fans proudly bear Orphaned Land tattoos, although this potentially puts them at risk in their home countries.
Orphaned Land's most recent release (their fourth), The Never Ending Way Of The Orwarrior, is in stores now. Orphaned Land is: Kobi Farhi - leading chants, growls, narrations, choir & backing vocals; Uri Zelha - electric & acoustic bass; Yossi Sassi Sa'aron - electric & classic guitars, saz, bouzouki, chumbush, choir vocals, piano and Matti Svatizky - electric & acoustic guitars.
Orphaned Land - The Road To Or Shalem DVD track listing:
DVD 1:
1. Halo Dies
2. Birth Of The Three
3. Olat Hatamid
4. The Kiss Of Babylon
5. A Never Ending Way
6. Disciples Of The Sacred II
7. Bereft In The Abyss
8. The Storm Still Rages Inside
9. Sapari
10. From Broken Vessels
11. Ocean Land
12. M I?
13. New Jerusalem
14. Vayehi Or
15. The Warrior
16. Baraka
17. Codeword: Uprising
18. El Meod Na'ala
19. In Thy Never Ending Way
20. The Beloveds Cry
21. Norra El Norra
22. Ornaments Of Gold
DVD 2:
1. Bakapaim (with Yehuda Poliker)
2. Halom Layam Hatihon (with Yehuda Poliker)
3. The Path Part 1 - Treading Through Darkness (drums & percussion solo)
4. Seasons Unite (from the album Sahara)
5. Thee By The Father I Pray (from the album El Norra Alila
Documentary - Vayehi Or
Videos - Sapari, Norra El Norra, Ocean Land
Slide show/band photos
[Source: Century Media]