Galahad News Frenzy
Date: Sunday, February 19 @ 13:00:00 UTC
Topic: Band News (tours, comings/goings, etc)



Galahad's Stuart Nicholson sent out this omnibus news blast (or as he called it "News Frenzy!!" this past Thursday:
Battle Scars
"...Well here we are in 2012 and Galahad World is suddenly a hive of buzzing activity, unusually so! after a much needed sabbatical and gathering of thoughts, due in part to the very sad loss of Neil Pepper our bass guitarist and very good friend.
"Thus, whilst appearing to have been very quiet to the outside world, we have, in fact been paddling very hard just below the surface having finished writing, arranging and recording not one but TWO new studio albums, the first of which, Battle Scars has now been mixed and is almost ready to roll. Neil is very much a part of both new albums having played bass on both, plus some guitars and keyboards on Battle Scars. So, as far as we are concerned he is still very much a part of Galahad, and always will be.

"We have worked hard to record an album that we feel is our best yet, in terms of sound quality, arrangements, songs, music, vocals etc, etc. We just hope that everyone else does too! It follows on from Empires in some ways but contains even more diversity and ventures further in to a few musical territories just touched upon on Empires. We also think that it is our most contemporary sounding album with a few nods to the past as usual, of course."
Track Listing:
1. Battle Scars (7.06)
2. Reach For The Sun (3.57)
3. Singularity (7.32)
4. Bitter And Twisted (6.58)
5. Suspended Animation (4.05)
6. Beyond The Barbed Wire (5.30)
7. Seize The Day (8.34)
8. Bonus: Sleepers 2012 (14.07)
"The new album also includes a bonus 2012 re-recording of one of our old classics to celebrate our 25 years plus of making music. You can see and hear excerpts from the album at our YouTube channel, along with an unused song from the sessions called Another Life Not Lived ...
Initially Battle Scars will only be available direct from the band's website on CD and DOWNLOAD format. Final release details will follow shortly, but we are aiming for April as long as all goes to plan!!
"We will also be offering several very good merchandise deals via the website when Battle Scars is purchased along with other Galahad titles and merchandise on the same order.
"Subsequently, Battle Scars will be listed on all the usual legal download sites i.e I-Tunes, CD Baby, Napster, Rhapsody, Amazon etc, but initially it will only be available directly from the band via our website, so please, please purchase directly from us if at all possible as it helps the band cover costs before it ends up being torrented all over the place which is bound to happen eventually! Thanks to all in advance.
"The second new studio album Beyond The Realms Of Euphoria should be released in the Autumn, more news to follow.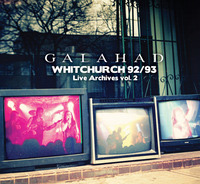 Whitchurch 92/93 - Live Archives Vol. 2 out now!!
"Yes indeed, not only a new studio album but also a new old double 'live' album digipak, courtesy of our dear friends at Oskar Productions, containing a live CD and live DVD of two concerts we played at Whitchurch Music Festival in July 1992 and July 1993 respectively. This release is part of our on-going 'Archive' project to make vintage Galahad concerts/recordings available instead of them just sitting in the vaults gathering dust. A kind of live Other Crimes & Misdemeanours series I guess."
Disc 1: 1992 (CD)
1. Intro - Carmina Burana
2. N.I.W. (the first ever release for this song, the unused title track from Nothing Is Written!)
3. Chamber Of Horrors
4. Dentist Song
5. Face To The Sun
6. Exorcising Demons
7. Legacy
8. The Automaton
9. Room 801
10. Richelieu's Prayer
11. Lady Messiah
12. One For The Record
Disc 2: 1993 (DVD)
1. Sleepers
2. Chamber Of Horrors
3. Lady Messiah
4. Before, After & Beyond
5. Dentist Song
6. Ghost Of Durtal
7. The Automaton
8. The Chase
9. Learning Curve
10. Richelieu's Prayer
11. Sylvia
12. Room 801
"This album is available to order now via our website in digipack CD/DVD format as well as in download format for the 1992 show.
"The story goes something like this:
"Many moons ago, way back in the early 1990s, a couple of brothers and very enthusiastic live music fans, Dave and Pete Martin, decided to organise occasional rock shows at the village hall of a small, quiet but idyllic Hampshire village called Whitchurch. They very kindly asked if Galahad would play a few of these gigs after having seen us, I believe, at the London Astoria playing with Pendragon amongst others in 1991.

"As a result Galahad played several gigs at this bijou and, on the face of it, unremarkable venue. But these gigs were special, very special ... small yes, but with the audience packed in like sardines, the beer flowing freely, hot sweat running down the walls, the atmosphere was electric, strangely reminiscent of some heady times at the Marquee Club in London, which was odd considering we were playing in the most unlikely of venues tucked away deep in the Hampshire countryside. These were some of the most memorable and fun shows the band ever played and we think the members of the incredibly receptive audience would agree, if of course they can remember!

"Those gigs will always linger long in the memory, Pete and Dave went on to better things in bigger venues, but these gigs were where it all started and will always have a special place within the heart and the history of the band.
"Fast forward to 2011 ... and the good news is that these shows were recorded both in audio and video format. Our dear friends at OSKAR Productions in Poland asked if they could release these now 'historical' musical documents, to which we replied 'of course' you can. Thus Whitchurch - 92/93 - Live Archives Vol. 2 has now been made available. This release is made all the more poignant as both concerts feature or Neil on bass guitar, who was in fine form, as were the rest of us at the time.
And Finally...
"One For The Record - The Official Galahad Biography written by Andrew Wild
Andrew Wild recently wrote the critically acclaimed official biography of fellow prog band Twelfth Night. We were so impressed that we asked him if we write ours too, luckily he agreed! Over to Andy ...
Shortly after the December 2009 publication of my book Play On - The Authorised Biography of Twelfth Night, I was invited by Galahad's singer Stuart Nicholson to consider writing the story of his band: a band that was rapidly approaching its 25th anniversary.

Galahad had performed with Twelfth Night at the 10th Tiana festival in 2008, and their paths would cross throughout 2010 as Galahad's Roy Keyworth and Dean Baker would join Twelfth Night for a series of live dates. I had also interviewed Stuart for Play On.

So although Galahad, the band, was somewhat familiar to me, their music was not. Shamefully, I had never heard any of the band's albums. To restore this, Stu's wife, Lin, sent me two packages of CDs. I started with the most recent, Empires Never Last. I was astonished. Why had a band making music this good so far eluded me? I then played their first recording, In A Moment Of Madness from 1987. I was astonished. The music was so utterly different from Empires. And yet Roy's guitar, Stu's vocals and Spence's rock-solid drumming were clear links between the oldest and the newest Galahad material.

Here was the story then: how did this part-time group from Dorset not only survive a series of potentially crippling line up changes in their early years, and almost complete indifference from record companies, but move beyond their clear early influences to make truly original, powerful and thoroughly enjoyable music on their own terms?

The music, though, was not quite enough for me to make a commitment. I also needed to meet and like the people with whom I would work on this book. I met Roy and Dean at their first rehearsals with Twelfth Night in February 2010. It was clear to me straight away that not only were these extremely talented musicians, but also genuinely nice people. Meeting Stuart a few weeks later confirmed this. I met Neil and Spence at the Night of the Prog festival in Germany in September 2010, when Dean and Roy performed with both Galahad and Twelfth Night on the same day, and we had a great time. I was convinced that working with Galahad would be a genuine pleasure. And it has.

The culmination of the research for this book was an amazing day in Ferndown in January 2011, when Stu, Roy, Neil, Spence and Dean reunited with Mark Andrews and Sarah Bolter. Tim Ashton and Karl Garrett joined via Skype from the Philippines and China for a lengthy, often hilarious and sometimes emotional collective interview session. None of us there that day will forget Tim's gradual descent from bouncy lucidity to utter nonsense and ultimately catatonia as the time difference and the Red Horse took effect. Later that night, Spence, Neil, Stu, Lin and I failed to set fire to Ferndown in honour of Spence's 40th birthday.

The late Neil Pepper was fully supportive of this book and was totally candid about his illness during our interview sessions. This book's manuscript was signed off and approved by all five members of the band in summer 2011. By then, Neil's condition had worsened and by the time we were ready to publish he had died. Whilst not wanting to turn this book into a memorial for Neil, because he wouldn't have wished for that at all, its publication is inevitably coloured by circumstance and tinged with great sadness.

One For The Record is a celebration of a band that has never been hip, trendy or pandered to the demands of current market trends. Perhaps, therein lies their enduring strength: Galahad has always ploughed their own unique furrow, creating music that they love and believe in, and sticking two big fingers up to all the cynics and unbelieving detractors.
"We expect that One For The Record will be published over the summer, and we are planning an accompanying 2-hour DVD of live performances from 1985 to 2010. Stay tuned!
"Well that's about it for now, it's going to be an exciting year for the band and we'd be incredibly grateful if you would come along with us for the ride or at least some of it. Galahad are back, up for it and ready to (prog) rock and roll.........
"As someone famous from around these parts once said: It's only a matter of going........."
Additional news not included in the frenzy, which only makes it more frenzious (to coin a term?): "Galahad are pleased to announce that their track 'Empires Never Last' will feature on a rather nifty compilation entitled Greatest Ever Prog Rock which will be released on the Union Square imprint on the 2nd April 2012.
"The album is a 3 CD compilation featuring tracks from 40 bands from all eras of Prog including Yes, Camel, Curved Air, Rick Wakeman, Marillion, Colosseum, The Moody Blues, Uriah Heep, Twelfth Night, IQ amongst many others."
And with all this talk about their Whitchurch performances, more new memories will be had later this year, as the band have confirmed their first "Galagig of 2012..." - Danfest 2 on November 24, 2012 at The Musician, Leicester. The first bands who have confirmed are as follows: Also Eden, Konchordat, Galahad and The Gift. Two more will follow, but full details will be released very soon with ticket price.
[Source: Stu Nicholson/Galahad, Galahad website]