Musea Releases for April/May
Date: Sunday, May 19 @ 22:00:00 UTC
Topic: Album Release News


Over the past couple of months, Musea Records have released or have distribution agreements for several titles. They are:
Apocalypse - The Bridge Of Light - Apocalypse was the first Brazilian band signed by Musea for a new record. Released at the end of the Eighties, Lendas Encantadas (1989) revealed an exceptional band playing Progressive rock music full of energy, obviously inspired by Marillion. The reissue includes four bonus tracks recorded in 1996.

The second album Perto Do Amanhecer (1995) proves to be in the same vein, but even better ! These twelve concise pieces mix peaceful acoustic moments with more aggressive and nearly hard-rock passages. And the Portuguese singing gives the music an exotic and very nice touch. Discover the warmth of this sunny music when admiring the superb pictures included in the booklet.
Aurora Dos Sonhos (1996) displays a luxurious Progressive rock music, halfway between influences from the Italian school from the Seventies (Banco Del Mutuo Soccorso, Premiata Forneria Marconi, Quella Vecchia Locanda) and the recent neo Progressive efficiency. A successful and subtle mixing. Refugio (2003) includes ten tracks (plus two bonus tracks) and a fantastic booklet with photos, lyrics and information about the band. More than the usual quality Progressive rock with symphonic influences, it delivers us those forgotten feelings like peace, love and compassion. It is, undoubtedly, an album worth listening to!
Available on both CD and DVD formats, Live In Rio features the band performing in the Rio ArtRock Festival 2005. That's the occasion to discover a new repertoire, as well as old tracks sung by the newcomer Gustavo Demarchi. His particularity is to sing in English, unlike his predecessor. Thanks to this, the music sounds more neo Progressive than ever! One hour and a quarter of music you cannot afford to miss!
The Bridge Of Light has been captured live in front of an enthusiastic Brazilian audience in November 2006. You just need to listen to the two opening songs to realize how good this band is: the first one gets closer to the best of Deep Purple, whereas the second one strongly evokes Fish's Marillion. And what about the remaining tracks? They just sound like... Apocalypse!

Ataraxia - Adolescence Of An Ancient Warrior - Ataraxia started its career on the Japanese Progressive rock scene along with Outer Limits, at the beginning of the Eighties. Here you have some kind of Nippon-flavoured neo Progressive that may remind [one of] the music played by IQ during that era. Bassist Hideaki Murata's vocals strongly relates to the theatrical school, led by Peter Gabriel. Considering all this, it's no surprise that Adolescence Of An Ancient Warrior, the only album published by the band, in the year 1986, was regarded as a true achievement in the path of Genesis. Not to be missed!
Big - Apokálupsis - For fifteen years or so, Frédérick Galiay and Edward Perraud (Shub-Niggurath) invent and improvise an abstract music, working with a strange and surprising symbiosis. Big doesn't care about categories: its music expresses the freedom of being beyond all styles or families. Published in the year 2013 on the Gazul/Musea label, Apokálupsis displays an extreme musical strength. Here's pure energy Drum N' Bass, bringing the listener back to the original pulse: it reminds us that music is a matter of breathing and life above all. Not to be missed! The word "Apocalypse" is a transcription of the Greek word (αποκAC;λuψη / apokálupsis) meaning "unveiling" or "revelation" Apokálupsis is the mature work of this duet. The veil is lifted, the proposal is clear, radical and obstinate.

Rémy Gauche - Nature Urbaine - The young and promising guitarist celebrates the release of his second album with a guest, St&ecaute;phane Guillaume. Nature, this is the theme that obsesses Rémy Gauche. And it is no coincidence that the second disc of his three (three years after the noted the Panamsterdam) is given the title "Urban Nature." Concocted under the aegis of the amazing saxophonist Guillaume, he reminds how the young guitarist follows in the footsteps of masters Bill Frisell, John Scofield and Pat Metheny. It is sophisticated music that fulfills tradition while glancing toward the future. "An elegant synthesis of heritage of John Scofield, Bill Frisell and Pat Metheny ... " (Jazz Magazine). "The guitarist knows the notes to talk with a miraculously naked musicality ... " (So Jazz). "Beautiful writing ... Rémy Gauche succeeds in expressing his own guitar expression. Swing to all floors and beautifully rendered themes." (Manu Katché)
Rémi Gaudillat - Le Chant Des Possibles - Four blowers who set out to discover the "song" of possibilities. In doing so they turned to the sound of big bands, string quartets, brass bands and rock bands without losing the cohesion of an original sound. The quartet takes all freedoms making use of warm and adventurous melodies to create compositions to suit the serene beauty. Complicity is evident, the pleasure displayed reveals the risk claimed for richer multiple influences and music open to the world.
This quartet, initiated by trumpeter Rémi Gaudillat, is testimony to his taste for original and unprecedented formations, as well as music cleverly popular. Sounding coppery, it combines woody warmth of bass clarinet for a formula favoring tonal richness and searching for sound contrasts. Gaudillat also says that writing is refined over the projects, including the side of imuZZic network (it has been written for Bruno Tocanne the Free Together or any invitation to Louis Sclavis, Hasse Poulsen, Jean-Philippe Viret). Writing where the melody is a predominant element, leaving more freedom to improvise to reinvent continually developing compositions of atypical forms.

Yiannis Glezos - The Roses Of Pieria (Instrumental Music Inspired By Ancient Greek Lyric Poetry) - Yiannis Glezos was born in Athens where he grew up. He quit the School of Economics & Finance (G.S.E.F.) to devote himself to music. His first album was released back in 1968 and it was a collection of art-folk songs of his. Since then, he has released eleven albums with more or less complicated music structures that varied from art-folk song to chamber music and Progressive rock on poetry. Published in the year 2013 on the Musea Parallèle label, The Roses Of Pieria - Instrumental Music Inspired By Ancient Greek Lyric Poetry contains twenty-one instrumental pieces and one song. Aside the rock band, additional instruments were used like trumpet, violin, viola, oboe, clarinet or traditional Greek instruments like Cretan lyre, Pontiac lyre, which give an exceptional Greek or even Archaic color to the project.
It is difficult to define the music of the album, but there are certainly there the Greek Traditional Music, Progressive rock structures and the so called Entehno (Greek Art folk-song) melodic passages. The recursion to Ancient Greek Poetry signifies a conscious reference to the pure lyricism, as an artistic protest against the roughness of modern life and the absence of values and pure sentiments. To be discovered!
The Samurai Of Prog - Secrets Of Disquise - The multi-national band The Samurai Of Prog is back with a double-album, putting its own spin on classic Progressive rock tunes plus new compositions. Performances and recordings are of the highest quality, and the CDs are accompanied by a beautiful forty-page booklet. This is a lovely homage to many of Progressive rock music's great works, some well-known and some lesser-known gems. We also see the band maturing into their own identity, as this, their second album, finds them penning fresh original tunes as well. The Samurai Of Prog is joined by a bevy of guest artists, making Secrets Of Disguise (Musea, 2013) a rich and textured feast for the ears. Guests include Jon Davison (Yes), Roine Stolt (The Flower Kings), Guy LeBlanc (Camel), Robert Webb (England), David Myers (The Musical Box), Mark Trueack (Unitopia), Phideaux Xavier, Kamran Alan Shikoh (Glass Hammer), Linus Kase (Anglagard), Mento Hevia (Crack), Lalo Huber (Nexus), Srdjan Brankovic, Akos Bogati-Bokor (Yesterdays), Stefano Vicarelli, Risto Salmi, Octavio Stampalia (Jinetes Negros), Matthijs Herder, Andrew Marshall (Willowglass) .... and many more!
Sunrise Auranaut - Childhood's End? - Sunrise Auranaut is an instrumental Progressive rock band, led by Russian multi-instrumentalist Vitaly Kiselev. Published in the year 2013 on the Musea Parallèle label, Childhood's End? reflects the musical breadth of the Progressive rock of the Seventies, made popular by the likes of Yes, Emerson, Lake & Palmer, Eloy, Camel or Manfred Mann's Earth Band. Here's a contemporary personal vision of childhood, illustrated with the beauty of Nature, boundless inner freedom, a sea of energy, vivid feelings and images, mystical fear, mystery, magic and belief in miracles... Throughout the album, quiet and peaceful parts alternate with fast and energetic sequences, linked with a cosmic inspiration. Keyboards and electric guitar rule, leaving room for acoustic guitar though. All this is combined with a powerful rhythm section. Not to be missed!
Talc - Talc - It was in Lausanne during the 90s that Vincent Verselle and Hervé Baumgartner start playing with Nicolas Julliard (aka Fuave) in a pop-rock quintet called The Unexpected. When the band splits up, they decide to carry on under the form of a bass & drum duo. They become a trio in 2009 when Antonin Wiser joins them, giving birth to Talc under its current form. Two years of intense creation process enable them to record a demo CD containing a few compositions, rapidly followed by their first home-recorded LP. This is also at this time that they draw the attention Musea Records and sign up with the famous French rock-prog record company, for a first CD to be released in May 2013. Meanwhile, Talc performs live at several occasions in Switzerland. A first single is also released in March 2013 through the LP Collection project in Lausanne . As a rock trio, Talc created a musical world swinging between electric energy and subtle architecture, complexity and spontaneity. Its compositions revisit the progressive and psychedelic rock, mixing it with contemporary post-rock laced with a light touch of jazz-fusion.

Tolerance - When Time Stops - Tolerance is a Venezuelan band formed in April 2003 by singer Ricardo Figueroa and drummer Rodrigo Nunez. After several line-up changes and ten years of hard work, the group finally records its debut album, When Time Stops, on the Musea Parallèle label. Here's a blend of hard-rock, funk, heavy-metal, classical music and electronic sounds, full of musicianship defined by overwhelming drumming, powerful guitar riffs, clever keyboards arrangements and remarkable vocals. The lyrics are related to topics such as existence, science, politics and environmental issues. Some of the most important band's influences are Deep Purple, Rush, Steve Vai, Magellan, Planet X, Living Colour and Dream Theater among others. When Time Stops was recorded and mixed in Caracas, Venezuela, and mastered in Nashville, Tennessee.
Some Venezuelan guest musicians took part of this recording, including three bassists. To be discovered!
Vermilion Sands - Spirits Of The Sun - Vermilion Sands is a Japanese quintet with a standard line-up for a Progressive rock band (bass, drums, guitar & keyboards). The feminine vocals sung by Yoko Royama strongly evoke Annie Haslam, whereas the musicians perform a delicate, elegant and refined music close to something the British musicians of Renaissance could have issued in their heyday. The reissue of Water Blue, their unique album recorded in 1989, includes many bonus-tracks. We can for example hear two tracks recorded when the band got together again at the Silver Elephant of Tokyo on December 22nd, 1996. Violinist Akihisa Tsuboy (KBB and Six-North) was part of the event.
This true legend of the Japanese scene of the Eighties makes an unexpected come-back today. Published in the year 2013 on the Musea label, Spirits Of The Sun is a collection of pastoral paintings, in the spirit of the first album by Renaissance, recorded half-live and half in the studio. Many guests are featured here, such as violinist extraordinaire Akihisa Tsuboy on the live-track "Don't Forget Your Love Mind." This wonderful piece of art was almost finished when female singer Yoko Royama sadly passed away of cancer. The composer of all tracks, keyboards player Masahiro Yamada pays tribute to his "dying beauty" with thrilling instrumentals like "Autumn" and "Seven Clouds." A splendid return!

The Vicar - Songbook Number One - The Vicar produces unique string and chamber arrangements, played by some of the world's outstanding musicians, such as Cathy Stevens (The Penguin Cafe Orchestra, Everything But The Girl...), Tony Levin (King Crimson), Theo Travis (Gong, Soft Machine Legacy...), Steve Sidwell (Robbie Williams, George Michael...), Chas Dickie (Van Der Graaf Generator...), Karen Wimhurst (Zaum), Nigel Barr (Michael Nyman) Or Horacio Pozzo (Argentine Big Time Guitar Trio). The Vicar throws the spotlight on emerging and lesser known singers, from those spotted at small venues: Steve Porter, Paul Ibberson & Mutch Katsonga, Tim Elsenburg. There are cult favourites who deserved centre stage in any gathering of fine singers as well: Andy Yorke, Lewis Taylor, David Scott... All were willing to sing simple melodies "as if for the first time." The album is presented on the CD, while the DVD-A presents the full album in 5.1 Surround Sound and in hi-resolution stereo. The surround mix, overseen by legendary surround mix engineer Neil Wilkes, has already been chosen by the sonic supremos at Dolby Sound labs to showcase their latest surround sound systems. The DVD-A also features a video for the song "Count Your Blessings" and the complete thirty-five chapter video-book of the first "Vicar Chronicle."

Yuka & Chronoship - Dino Rocket Oxygen - Yuka & Chronoship is a Japanese Progressive rock band formed in 2009 by keyboardist, vocalist and composer Yuka Funakoshi, along with three leading studio musicians: bassist Shun Taguchi, guitarist Takashi Miyazawa and drummer Ikko Tanaka. Highly reminiscent of late Seventies Progressive rock, the sound of the band is reputed for its philosophical depth, lyrical brilliance, and technical virtuosity. Japan, a country consisting of four main islands surrounded by the sea, have long benefited, but at times greatly suffered, from water during ancient times. The debut album Water Reincarnation (Musea, 2011) depicts such an ever-recurring water cycle. From an almost cosmic perspective and with technical and musical richness, this grandiose concept-album portrays the reincarnation of water: the rain turned into a river, a river poured into the sea, the sea forming clouds, and clouds turned back into the rain. Two years later, the Japanese band strikes back with Dino Rocket Oxygen (Musea Parallèle, 2013): illustrated by a logo designed by none other than Roger Dean, this fantastic second album offers three philosophical epics and mixes symphonic rock, jazz-rock, new-age and ethnic music. Don't miss the chance to explore the musical microcosm of Yuka & Chronoship!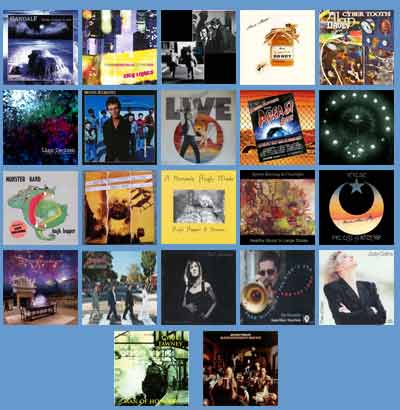 Plus: From BSC-Prudence, Gandalf - From Source To Sea; a new acoustic title, Frank Haunschild Electric Trio - City Lights, from Gonzo Distribution Daevid Allen & Mark Kramer - Who's Afraid?/Hit Men, Ant-Bee - Pure Electric Honey, Alan Davey - Cyber Tooth, Liam Davison - A Treasure OF Well-Set Jewels, Michael Des Barres - I'm Only Human, Detective - Live From The Atlantic Studios, Merrell Fankhauser - Area 51 Suite, The Green Violinist - More Thrill And Never Ending Blessings, Hugh Hopper - Monster Band, Hopper/Dean/Tippett/Gallivan - Mercy Dash, Hugh Hopper & Mark Kramer - A Remark Hugh Made, Spirits Burning & Clearlight - Healthy Music In Large Doses, Wally - Valley Gardens, Zenit - The Chandrasekhar Limit
From Planetworks, Beatallica - Abbey Load, Cecile Hortensia - Papillons, Jim Rotondi and the Loop - Hard Hittin' At The Bird's Eye.
From Talking Elephant, Judy Collins - Fires In Eden*, Shawn Phillips - Rumplestiltskin's Resolve, Cyril Tawney - Man Of Honour
Also from Gonzo, four CD/DVD sets, Erik Norlander - The Galactic Collective - Definitive Edition and The Galactic Collective - Live In Gettysburg, Daevid Allen & The Magick Brothers - Live In San Francisco, G.P.S. - Two Seasons - Live In Japan
*noted as Progressive Rock... Really? An error? Ya think? -ed.
[Source: Musea Records]