Joe Satriani To Release 15th Studio Album On Friday 24th July
Date: Saturday, July 18 @ 23:00:00 UTC
Topic: Album Release News


Released On CD, Download And 2 LP Vinyl
World Tour Begins 17th September in Europe -- US Tour Planned Early 2016
Crystal Planet -- Satriani's Sci-Fi Animation Series In The Works
Legendary guitarist, Joe Satriani, announces plans to release his 15th solo studio album, Shockwave Supernova, on 24th July, making him one of the first to utilise the new "Friday, Global Release Day" for music.
It would be easy to call Shockwave Supernova a "masterpiece" or "the last word on guitar" from the world's most commercially successful solo guitar performer. Satch, however, sees it much more personally. He has consistently advanced the artistry of the instrument; an effort he dedicated himself to on 18th September, 1970, the day his idol Jimi Hendrix died.


Recorded late last year at Skywalker Sound in Lucas Valley, CA, Satriani assembled the dynamic trio of world-class musicians who had recently been part of his global tour; renowned keyboardist and guitarist Mike Keneally, a veteran of several Satch outings and recordings; along with drumming whiz Marco Minnemann and bass extraordinaire Bryan Beller. "I couldn't have asked for a better band to help bring these songs to life," says Satriani.
The album also sees Satriani once again joining forces co-producer and engineer John Cuniberti. Satch and Cuniberti share production on Shockwave Supernova, as they have on numerous albums – their shared history dates back to the guitar star's 1986 debut album, Not Of This Earth and its follow-up, the platinum-selling, critically acclaimed, Surfing With The Alien.
In a creative and engaging alternative venture, Satriani, a lifelong science fiction fan, has reached out to the future, through the medium of animation. Finally recognizing the on-stage symmetry with his alter ego allowed Satriani to also take a risk on this particular style of storytelling. He says, "Guitarist Ned Evett and I have created an animated series called Crystal Planet.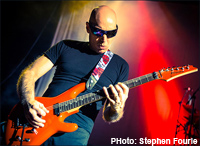 The actual Crystal Planet is our very own Earth, set billions of years in the future. The hero of the show uses music generated by a unique electric guitar to travel through time while the show's characters struggle to preserve the future and past of humankind." More information on Crystal Planet and how and where fans will view the series will be coming shortly.
The album is available for pre-order on Amazon and iTunes and will also be available to order as 2 LP 120 gram vinyl.
Tracklisting: "Shockwave Supernova," "Lost In A Memory," "Crazy Joey," "In My Pocket," "On Peregrine Wings," "Cataclysmic," "San Francisco Blue," "Keep On Movin'," "All Of My Life," "A Phase I'm Going Through," "Scarborough Stomp," "Butterfly And Zebra," "If There Is No Heaven," "Stars Race Across The Sky," "Goodbye Supernova."
UK tour dates:
Nov 1, 2015 -- 02 Apollo, Manchester, England, UK
Nov 2, 2015 -- Symphony Hall, Birmingham, England, UK
Nov 3, 2015 -- Royal Concert Hall, Glasgow, Scotland, UK
Nov 4, 2015 -- City Hall, Sheffield, England, UK
Nov 5, 2015 -- St. David's Hall, Cardiff, Wales, UK
Nov 7, 2015 -- Southend Cliffs Pavilion, Southend-On-Sea, Essex, England, UK
Nov 8, 2015 -- Colston Hall, Bristol, England, UK
Nov 9, 2015 -- Guildhall, Portsmouth, Hampshire, England, UK
Nov 10, 2015 -- Eventim Hammersmith Apollo, London, England, UK