THE ARTISTS


14 artists from 9 countries agreed to contribute a track to the One World Tapestry project. We encourage you to explore further the music created by these artists.
STYRBJÖRN BERGELT & ROLAND HÅKANSSON (Sweden)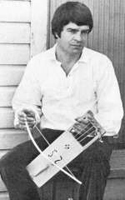 Styrbjörn Bergelt has since the mid-seventies recorded five albums featuring medieval and traditional folk music. He is also known for bringing a revival to the bowed harp.
"Tolv Man" (i.e., Twelve Men) refers to the old legend of "Twelve Thieves In The Forest," also applying to the idea of a bear having the strength of twelve men put together. This track has been lifted off Styrbjörn Bergelt's and Roland Håkansson's album Randalin, which was released by MNW on vinyl in 1986. The intention was to combine ancient Nordic instruments such as bowed harp with synthesizers and contemporary equipment.
For more information about Styrbjörn, check into: www.tongang.se/katalog/bildbirka.html & viking.hgo.se/Books/Music.html; Styrbjörn Bergelt passed away in February 2006.
"Tolv Man" - from Randalin
BRAINSTORM http://members.ozemail.com.au/~bstorm/ (Australia)

Australian band Brainstorm formed in 1988, covering Hawkwind and other contemporary groups, as well as performing their own original music. Over the years their style has evolved steadily towards the eclecticism of Progressive Rock, pursuing an unashamed path towards the early seventies paradigm of longer songs, ever more complicated arrangements, and increasingly obtuse lyrics. The band's infatuation with science fiction and in particular the planet Mars has been evident in their albums from their first (eponymous) release in 1993, through Brainstorm 2 Earth Zero" in 1995 (remastered and rereleased in 2001), and Tales Of The Future in 1998. It is from their 2005 release CD Desert World that the song "Paradise Lost" was lifted for the One World Tapestry CD.
The band write, "Brainstorm would like to sincerely thank everyone who has given their time, skills and money in support of this project. 280,000 people lost their lives in the space of a couple of hours. The mind shrinks from such a figure. While our own lives last let us help each other, and imbue the future of this World of ours with the spirit of caring and love."
"Paradise Lost" is from the band's fourth release Desert World.
ENSEMBLE NIMBUS www.tap-records.com

Formed in 1992 by Håkan Almkvist and Hasse Bruniusson (often also seen with The Flower Kings), they first appeared on a compilation CD Passed Normal Vol. 6 & 7 (released in the USA on FOT Records) with the track "The Key Figure." It's a CD that also featured Pere Ubu, Daevid Allen, Henry Kaiser, Arthur Brown, Peter Blegvad, Ron Geesin others. The band also consists of Lars Björk, Kirk Chilton, and Stefan Carlsson. Their first album, Key Figures was released in 1994 by Ad Perpetum Memoriam (APM), their second, Scapegoat, was released in 1998 via their own label TAP in conjunction with Record Heaven. Their third album to date was released in 2000, Garmonbozia.
The band are currently working on their forth album, Seven Signs
"Epigram" is from 1998's Scapegoat.
RÓBERT ERDÉSZ www.perifericrecords.com (Hungary)


Róbert Erdész is the keyboardist with Hungarian progressive rock band Solaris, a band named for a Stanislaw Lem novel that got its start in 1980, releasing in 1984 their debut album The Martian Chronicles (a title taken from another SF author, Ray Bradbury). Though the band went their separate ways by the early 1990s, they were reunited by agreeing to perform at Progfest 1995. They later performed at the Rio Art Rock Festival. Guitarist Istvan Cziglan died in 1998, but can be heard on the band's second album, released in 1999, Nostradamus
In 2000 Erdész released Meeting Point a progressive world music CD that featured fellow Solaris members Attila Kollàr on flutes, tambourine and vocals, Làszlò Gömör on drums, as well as Jànos Varga and Péter Gerendàs on guitars, Ferenc Muck on saxophone, Àron Eredics on tambourine, Mihàly Borbely on hautbois, Tamàs Erdesz on mouth harp, and Màrta Sebestyen, Zsuzsa Ullmann, Ildokò Keresztes, Emil Tòth, and György Bòdi Varga on vocals.
"Gregorian" is taken from Meeting Point.
IN THE LABYRINTH www.inthelabyrinth.com (Sweden)

Sweden's In The Labyrinth was born in 1994. The first album was The Garden Of Mysteries (1999), which included mainstay Peter Lindahl on numerous instruments including Mellotron, Fender Stratocaster, saz, zither, acoustic guitars, bass, mandolin, samplers and synthesizers, vocals and more. Two tracks on this release, "Moorish Waltz" (recorded in 1996) and "Karakoram Pass" (recorded in 1993) have been melded together to create "Karakoram Waltz" especially for the One World Tapestry release.
With a different line up, including Ensemble Nimbus/Orient Squeezer's Håkan Almkvist and Kirk Chilton (among others), the second In The Labyrinth CD was released, Walking On Clouds (1997).
The third album, Dryad, was released in 2002. Dryad is a darker album than Walking On Clouds, yet retains a Middle Eastern feel along with a Celtic feel.
"Karakoram Waltz" is an exclusive compilation as described above, its consitutent parts from The Garden Of Mysteries.
ATTILA KOLLÀR www.perifericrecords.com (Hungary)

Attila Kollàr is the flautist/vocalist/multi-instrumentalist with Hungarian progressive rock band Solaris, a band named for a Stanislaw Lem novel that got its start in 1980, releasing in 1984 their debut album The Martian Chronicles (a title taken from another SF author, Ray Bradbury). Though the band went their separate ways by the early 1990s, they were reunited by agreeing to perform at Progfest 1995. They later performed at the Rio Art Rock Festival. Guitarist Istvan Cziglan died in 1998, but can be heard on the band's second album, released in 1999, Nostradamus
In 1998 Kollàr released Musical Witchcraft, a solo CD with flute as the centerpiece. The album featured many of the same musicians that were guests on Robert Erdesz solo CD two years later, and included Erdesz himself on keyboards. In 2002, the name of the album became the name of the project and a second CD Musical Witchcraft II was released.
"Alchemy" is from Musical Witchcraft
JOSE LUIZ FERNANDEZ LEDESMA (Mexico)

"Jose Luis Fernandez is one of those amazing performers who are capable of continuously transforming their style. In that way, each of the albums that have ever been released by Jose Luis sounds very fresh, at least," writes Vitaly Menshikov of Progressor.net of Ledesma's sixth album Al Filo. This Mexican keyboardist got his start in the band Nirgal Vallis, releasing one album, Ymurio La Tarde.
The first release under his own name was 1991's Universos Imaginarios, followed in 1992 by Evos Luz. It wasn't until 1996 that a third album, Motivos Para Perderse was released (though he joined Alquimia on 1996's Lenguas Muertas in between). This was followed by 1997's Extractos, about which E-Prog's Mark Fonda writes "[T]his is a fabulous orchestral, pastoral, symphonic and multi-faceted endeavor... along the lines of After Crying from Hungary or Hecenia from France... ". 2000 saw two releases, Sol Central and Dicen Que Somos Dioses Y Nos Sonamos Hombres. 2002 saw the release of Al Filo, and in 2003, Designios. On most releases, Margarita Botello has joined him on vocals, synths and percussion.
"Ave Luz" is from the latest release Designios.
POÇOS & NUVENS (Brazil)

Brazil's Poços & Nuvens began in the 1980s, though it wasn't until 1996 that they recorded their first album, Ano Veloz Outono Adentro, releasing it in 1998. The music is a mix of Brazilian, tango and bossa nova styles. Being from a region of Brazil that is close to Argentina has "brought to the band's music a mix of different flavors, not usually seen (and heard) in the progressive world. The power of nature of this place, with long fields and beautiful mountains, also contributed to the inspired lyrics of the group," they note on their website.
Their second album, by what was now a six-piece (up from four), Província Universo was released in 2001, the same year they played the Rio Art Rock Festival. Poços & Nuvens (which means "wells and clouds" in Portuguese) are Rodrigo Bernardon on drums' Edgar Sleifer on flute, guitar and vocals; Iva Giracca on violin, Gérson Werlang on guitar and vocals; Sávio Werlang on keyboards and Chico Gonçalves on bass.
"Geracao Perdida" is from their debut album.
SABAH HABAS MUSTAPHA & THE JUGALA ALLSTARS
kartini-music.com/home/SabahHabas/?mainm3 (Germany/Indonesia)

Sabah Habas Mustapha & the Jugala Allstars is lead by bassist and vocalist Sabah Habas, also known from 3 Mustaphas 3 (and known in progressive rock circles as Colin Bass). The first release by Sabah Habas was 1994's Denpasar Moon, which featured top Jakartan artists in the Dangdut Music scene. In 1997, Jalan Kopo was released and included those would soon become the Jugala AllStars: Ismet Ruchimat on kacapi (a zither like instrument), Agus Supriawan on khendang (a "double-headed drum played with hands and feet, together with three smaller drums known as ketipung."), Asep Maung on suling (a bamboo flute) and Yadi Pituek on violin. Later Tetti Yani Mugiono joined on vocals and Zenir on khendang with the release of the third album So La Li in 1999. So La Li "was voted one of the best albums of 2000 in Froots magazine (UK) and led to the nomination of the group for the BBC Radio 3 Awards for World Music (Asia/Pacific category) in 2001. The Jugala Allstars embarked on their first European tour in June 2001 including appearances at the Roskilde Festival in Denmark and the Rudolstadt Festival in Germany."
"Seuri" is from So La Li.
TOPEKA www.lopie.com/topeka.htm (United States)

Fletcher Harrington led the country-rock band Cowboy Buddha beginning in 1995 and released his first solo album in 2002, solidifying his status as one of California's leading singer/songwriters working along the country-rock axis. Harrington's music draws primarily from such country-rock icons as Neil Young, Johnny Cash and Uncle Tupelo, yet the singer/songwriter also has roots in such garage punk bands as the Minutemen and pop/rock bands as REM. As a result, his music doesn't fall within a simple category but rather spans the axis from country to rock. His new album Land Rush with the band Topeka reflects a noticed turn in styles. You will discover a wealth of impressionistic lyrics, musical textures and moods. The album creates a sound that fuses folk and Americana roots music with ambient and electronic touches. Pete Feenstra from REALMUSICLIVE says "the album contains some of the most inventive, well crafted, delicate songs that its been my pleasure to hear for years."
Fletcher will be touring the Europe this spring and then follow up with a summer schedule of shows throughout California, Oregon and Nevada.
"Like The Road That Rolls By" is from Land Rush.
STEVE UNRUH www.steveunruh.com (United States)

Multi-instrumentalist Steve Unruh creates what can be called - and what he calls - progressive folk rock. It is a direct and intimate style employed by the likes of Ian Anderson and early Spock's Beard. Unruh is one of the new breed of singer/songwriters - something thought lost when the 70s ended - joining a group that includes Neal Morse, the late Kevin Gilbert, Guy Manning, and others.
Unruh began his recorded musical career with Sign Of Saturn, who released their first and only album in 1996, Sign Of Saturn. In 1997, Unruh released his first solo album Believe, following that up with 1998's The Beginning Of A New Day. Other solo works soon followed - Two Little Awakenings (2001), a 2-CD set; Invisible Symphony (2002), his first solo solely instrumental recording; Instrumental Retrospective (2004); Out Of The Ashes (2004); Song To The Sky (2005); and his latest release Great Divide (2007).
"InstruMental Breakdown" is from Invisible Symphony
VITAL DUO www.minimumvital.fr.fm (France)


Vital Duo are Jean-Luc Payssan (guitars, mandolin, drums, percussion, vocals) and Thierry Payssan (organs, piano, synths, percussion and vocals), two members of Minimum Vital. "This project was born from our desire to explore new territories mixing both our progressive and medieval backgrounds to try and reach a wider freedom of sounds and interplay that is difficult to obtain from a full band," the band write on their website. The band released their first (and thus far only) album, Ex Tempore in 2001 via Musea Records, which included two reworked MV tracks, including the one that appears on the One World Tapestry CD, "La Tour Haute." The following year, the duo appeared at Prog'Sud 2002. Le Jardin Hors Du Temps, Vital Duo's first DVD, was released in January 2003 featuring the duo live at Chapelle de Mussonville the previous autumn.
"La Tour Haute" is from Ex Tempore
WAAK WAAK JUNGI www.waakwaakjungi.com (Australia)

"Waak Waak Jungi emerged from cultural exchanges between artists and musicians from Ramingining, in north-east Arnhem Land and Christmas Hills, in rural Victoria.
"Through nearly twenty years of contact, this diverse group has evolved into a dynamic musical force - embracing the indigenous and white aspects of shared culture.
"For the members of Waak Waak Jungi, this exchange has taken the form of musical collaboration, resulting in stunning performances and recordings."
"All Gone" is from Crow Fire Music
STEVE WARNER home.iprimus.com.au/zuppy (Australia)


Living on Australia's southern coast, on Port Phillip Bay, Steve's music reflects the inner life and the natural world - especially the sea.
His first, self-titled album from 1974 was recorded on the southern island of Tasmania. It's complex textures and harmonies, built up layer upon layer, were created with Steve singing and playing all instruments. The songs are reflective and fragile.
His most recent album Sketches Of Paradise shows a marked change in approach. He plays guitar, guitar, and more acoustic guitar and invites many of his favourite musicians - from Melbourne's rich multi-cultural scene - along for the ride. Players from the jazz scene, from the acoustic/gypsy tradition and from the Melbourne Symphony Orchestra work seamlessly together. The music is outgoing and optimistic but rooted deeply and firmly in a broad musical life. It's Latin, African, Carribean … it even drifts dreamily into an Eric Satie inspired piece, then back again … it's an exciting mix.
"Hawa El Sahra" is from Sketches Of Paradise
WIERMANN & VOGEL www.quaternarequiem.com (Brazil)

Quaterna Reqiuem ("the rest of the four") was formed by Elisa Wiermann (keyboards) and Claudio Dantas (drums).Their first album, Velha Gravura was released in 1990 and included the track "Madrugada" (a CD version of the album was released in 1992 with two bonus tracks). The band at the time comprised Wiermann, Dantas, Kleber Vogel (violin), Marco Lauria (bas) and Jones Junior (guitar), though Vogel, Lauria and Jones later left.
Quasímodo was released in 1994, a suite of music composed by Wiermann and inspired by Victor Hugo's Our Lady Of Paris (The Hunchback of Notre Dame). Joining the line up were Roberto Crivano (guitars) and Fábio Fernandez (bass, lute). A live album followed in 1999, Livre, recorded at Scalla in Rio De Janeiro.
Wiermann and Vogel recorded and released A Mão Livre in 2003. The music was inspired by a 2001 painting exhibition by Dantas. A Mão Livre includes a re-recorded version of "Madrugada," and excerpt of which appears on this benefit CD.
[Home] [News] [About] [The Artists] [Where To Buy] [Links] [Contacts] [MySpace]
© 2005 - 2008 Musea/One World Tapestry. Use of any text or images without permission is prohibited; if you need something, just ask.