Artist News: Nightmare Welcomes Andromeda To The Fold!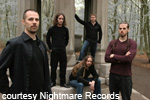 Nightmare Records is VERY pleased to welcome to our fold the amazing Progressive Metal band, Andromeda from Sweden.
This Sept 16th, the week before ProgPower USA, Andromeda's new release The Immunity Zone will hit stores.
This Swedish Band brings amazingly well done Progressive Rock / Metal to the ears of fans of bands such as Symphony X, Dream Theater and A.C.T. With FIVE preceding albums released in Europe and Japan with labels Massacre, Replica and Avalon/Marquee, this band has been invited to play a coveted spot at the prestigious [sold out] 2008 ProgPower USA Festival (Atlanta, GA) known for bringing bands well known bands in this genre that have not yet toured the U.S market. Nightmare Records has set the street date on this album the week before this festival. Sales will be very good out of the gate on this.
Discography:
* Extension Of The Wish (2001, Century Media)
* II=I (Two Is One) (2003, Century Media)
* Extension Of The Wish - Final Extension (2004)
* Chimera (2006, Massacre Records)
* Playing Off The Board (Live DVD) (2007)
* The Immunity Zone (SEPT 16, 2008, Nightmare Records)
Line-up
David Fremberg - Vocals (also in Bloom)
Johan Reinholdz - Guitar (also in Nonexist, Opus Atlantica, Skyfire)
Thomas Lejon - Drums (also in A.C.T, ex-Embraced, Ominous)
Martin Hedin - Keyboards
Fabian Gustavsson - Bass
MySpace: www.myspace.com/andromedaonline
[Source: Nightmare Records]