Artist News: Spain's Omni Announces Changes In Lineup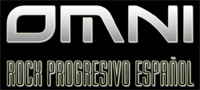 "Lately there have been changes in our band. After a brief period in dry dock, Omni is coming back strongly with the musicians and co-founders of the original project:
"Michael Starry - guitar and synth; Jose Luis Algaba - bass; Juan Rios - guitar and synth; Salvador Velez - guitar and midi guitar; and Mario Bocanegra - drums and percussion
"Now we are engaged in the preparation of our next CD. We will keep you posted.
"Best wishes
Jos? Luis Algaba"