CD/DVD Releases: Billy Connally Releases ''The Silent Canvas''
The Silent Canvas is a collection of thirteen songs written and produced by Billy Connally for both guitar enthusiasts and fans of hard rock. Drawing from influential bands that have both rock and progressive styling, the purpose of the album is to take the listener on a journey and not just impress with fretboard pyrotechnics.
''Billy's style is very much that of a rock fan through and through, and name-checking many of his influences reveals a love for the classic rock and metal players which are clearly evident in his compositions. As you might expect for a modern guitarist he's got all the technical chops you could wish for and a great line in expressive bends as well as an ear for a riff. In fact I don't think there's a song on the album that doesn't have at least a couple of ear-catching riffs and chord progressions forming it's backbone!'' - Shred Reviews/June 2010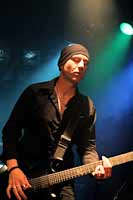 In support of the album Billy has a band of veteran musicians in place for shows up and down the west coast this summer/fall 2010. Then a southwest tour to follow in the early half of 2011, centering around an appearance at the annual SXSW in Austin, Texas!
Performance Track List:
1. Fallen Axis
2. Stalker
3. Perigean Tide
4. Bending Kharma
5. Transcendental Medication
6. The Silent Canvas
7. Kaleidoscope
8. Trying
9. Reflexion
10. Cognitive Dissonance
11. Sonata In Sadness Minor
12. Blue Voudo
13. Harbinger
Click Here To See Billy Connally Videos Click Here To Read Billy Connally's Interviews
[BTW, this is not the Scottish comedian/musician/actor, he's ConnOlly - as the pic above makes clear... -clarifications ed.]
[Source: Favored Nations/Digital Nations