Festival News: Tinyfish Announced For RoSFest 2011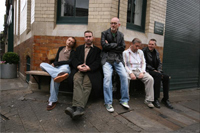 Tinyfish is a five-piece band based in South London (and Reading and Maidstone and Gothenburg, Sweden) with a deep and abiding interest in all forms of progressive music. The group formed in 2005 as part of an informal collective of musicians who enjoyed playing the acoustic open mic spots of London (UK).
Although profoundly influenced by the UK progressive scene, the band was keen to break from as many of the traditional prog clich?s as possible. "I would die of boredom if I thought we were just recycling the songs and sound of the 70's" said lead singer and songwriter Simon Godfrey. To that end, Tinyfish chose to write and perform without the aid of a keyboard player, using guitar synths, electronic percussion and a myriad of special effects to obtain their distinctively melodic sound. "It forces us to think differently and keep away from musical comfort zones" adds lyricist Robert Ramsay.


Upon releasing their eponymous debut album in 2007, Tinyfish undertook their first UK tour to promote the release. Both the tour and the album were hailed as a great success with Classic Rock Magazine naming it as one of the top 15 albums of the year.
In 2008 the band signed to respected progressive label F2 Records worldwide and they began work upon on their follow up album The Big Red Spark. In 2009 they released an EP of rare material and a live DVD filmed in Poland.
2010 has now seen the release of The Big Red Spark which has already garnered critical acclaim, prompting an unprecedented (for a Progressive Rock album) 9/10 from Classic Rock Magazine's Geoff Barton. There has also been a welcome return to the Summer's End festival and finally the confirmation that drummer Leon Camfield has joined the band as a full-time and permanent member.
Guitarist Jim Sanders sums up Tinyfish so far: "We've come a long way from a bunch of friends jamming in a loftspace for fun. We're very pleased by how much success the band has encountered in such a short period of time but the only important goal for Tinyfish is whatever comes next."
Tinyfish are thrilled and flattered to have been asked to play at RoSfest in May 2011 and can't wait to perform in front of a North American audience for the first time.
Tinyfish Facebook | Tinyfish Youtube
Please take note the band is playing the second slot on Friday evening.
[Source: George Roldan/RoSFest]