CD/DVD Releases: Two Brand New Releases From Progressive Promotion Records

Toxic Smile's I'm Your Saviour is one of two new releases from Progressive Promotion Records, due out January 1, 2011.
About Toxic Smile: Toxic Smile was founded by keyboard player Marek Arnold and drummer Daniel Zehe in January 1996. At this time both lived in Leipzig. The simple reason for starting the band was that they were fed up with playing student jazz all the time. So Toxic Smile was initially nothing but an alternative project of bored students of music. In May 1996, guitarist Uwe Reinholz joined the band. However, it took another two years to find the right vocalist. Since Larry B. entered Toxic Smile, his voice has been the special trademark of Toxic Smile's sound. The band was completed by bass player Robert Brenner in January 2000. Till this time some demo tapes had already been recorded and the group soon started working on their debut CD Madness And Despair (at Foen Studio).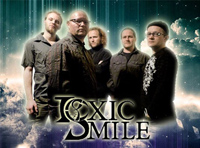 On October 1st 2000, Toxic Smile released MAD (on F.act-records). The album was especially successful in Asia. BMG Seoul offered the band a major deal. Toxic Smile signed, of course!! Korean guitarist Ahn Hete supported the band as "special promotion guest" during their time with BMG. MAD was supplemented with a couple of new tracks and received a new master mix. In August 2001, after signing the contract with BMG South Korea, MAD was released in Asia. At the same time Toxic Smile played a promotional tour in South Korea. From October 2001 to November 2002 Toxic Smile spent most of their time writing songs for their second album. In December 2002, the band separated from BMG due to various differences regarding the recorded material and sales.
From February - April 2003, their sophomore album was recorded by Marek and Uwe at Wizard Studios. During July and August 2003 mixing and mastering of the album took place at Famous Kitchen Studios (Andy Horn). Retrotox Forte was finally released on March 15th 2004 by Famous Kitchen. In the summer of 2004 the band started work on the classical project Waldenburg. In September 2004 Daniel suddenly left the band. Within two weeks Antonius Gruetzner was hired as Toxic Smile's new drummer (and he proved to be a worthy substitute).
His first gig with the band was released on a limited DVD called Live At The Progparade V. In February 2005, the rehearsals for the classical DVD Toxic Extension took place and the recording eventually happened in Waldenburg on March 5th. In November 2006, the DVD Toxic Smile In Classic Extension was released.
During 2007 and 2008 all members worked more and more on their individual careers. Since then Toxic Smile has only existed as a studio project. Antonius left the band - not without recording drums for an upcoming EP release, though. Marek took care of the recording and mixing of that record. Overdue Visit was finally released in June 2009 on Oliver Wenzler's label Progressive Promotion Records.
In the meantime, Robert Eisfeld, founder and owner of Dresdner Drumfestival has taken over drum duties.
2010. At last! After a six year break, the long awaited new studio album will be released in early January. Toxic Smile are going for it and they've called in some prominent help. Markus Teske (producer of Vanden Plas) has engineered the 9 tracks and thus given the album its final polish. So there is something to look forward to! The album offers the typical Toxic Smile blend ? from catchy art rock with jazzy elements to powerful prog metal - while still sounding new and full of energy.
The Band:
Larry B. ? Vocal
Marek Arnold - Keyboard / sax
Uwe Reinholz ? Guitar
Robert Brenner ? Bass
Robert Eisfeld ? Drums
Tracks:
1. Liquid Wall 9:10
2. The Change 5:37
3. The Abyss 7:45
4. Hidden Brand 6:31
5. Walked By Fear 6:21
6. Endless Cycle 6:42
7. Pride And Joy 6:33
8. Poles Apart 5:16
9. I'm Your Saviour 8:00
The second of two new releases was released back in September by InVertigo. Called Next Stop Vertigo, the new album is their debut.
About InVertigo: InVertigo: this means a blend of art rock and fine neo-prog, situated somewhere between complexity and catchiness, epic structures and radio affinity, 11/8 and 4/4. InVertigo?s songs mirror influences by progressive rock bands such as Genesis, Yes, Spock's Beard, Marillion, The Flower Kings or Porcupine Tree ? but do sound completely different.
Symphonic compositions, multilayered arrangements, variations of key, tempo and rhythm, constant changes and surprising twists make up their songs. And yet: InVertigo make sure the songs' musical content prevails. Even though the compositions are usually quite long, the song itself and demanding but catchy melodies are the primary focus.
Sebastian Brennert, Matthias Hommel, Michael Kuchen-becker, Andre Lente and Jacques Moch have been performing their songs live for quite a while: supporting progressive rock favourites such as Alias Eye, Sylvan, Pure Reason Revolution, or being part of the pROCKfest line-up, they have always received enthusiastic feedback by audiences and critics. The Empire magazine, for instance, stated, ?There?s a lot of potential in this band ? keep it going!?. Now, the time is really ripe for InVertigo?s debut album.
With Next Stop Vertigo, the five musicians from Germany?s Ruhr area deliver a multifaceted modern prog rock album: the tight atmosphere and tension of songs such as the opening track, ?Vertigo?, or the multi-layered ?The Night," put listeners under their spell at once. While ?Take Your Time? and ?Night On Broadway? offer a clear invitation to rock and roll, ?Saturday Evening? and the mini-musical-esque ?Special? are beautifully arranged longtracks that bear anthem qualities.
The Band:
Sebastian Brennert - Voice, Keyboards
Matthias Hommel - Bass
Michael Kuchenbecker - Keyboards
Andre Lente Drums
Jacques Moch - Guitars
Trakcs:
1. Vertigo 7:27
2. The Night 8:57
3. Special 12:23
4. Take Your Time 7:46
5. Night On Broadway 7:18
6. Saturday Evening 8:33
[Source: Two Side Moon Promotions]