Concerts: Steve Lukather Returns To The UK Due To Popular Demand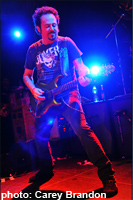 Following the release of the critically acclaimed new studio album All's Well That Ends Well, and his packed out UK gigs in London, Wolverhampton and Southampton earlier this month, Toto guitarist Steve Lukather has just announced a handful of further UK solo concerts during March 2011.
Lukather will play the Leamington Spa Assembly (Thu 17th March), Manchester Club Academy (Fri 18th March) and Holmfirth Picturedrome (Sat 19th March). Tickets went on sale to the general public on Friday November 26th via the 24 hour box office: 0871 230 1110, www.seetickets.com.

Steve returns to the UK and Europe in 2011 with the same band who accompanied him on his 2010 European dates ? Eric Valentine (drums), Steve Weingart (keyboards, vocals) and Renee Jones (bass guitar, vocals).
?The reaction from the recent UK and European tour was incredible,? says Lukather. ?The All?s Well That Ends Well? [album] has received tons of amazing rave reviews and I?m really excited about coming back to the UK and the rest of Europe to perform more of my solo work with one of the best band?s I?ve ever had the pleasure to work with.?
Continues Lukather, ?Earlier this year I told everyone I was genuinely excited because I had some great new music to play. However I wasn?t expecting the overwhelming response from the fans. I originally set out to achieve a personal best, and the plan was to work hard on all aspects of the music. It?s still a journey that?s for sure.?
For over 30 years Lukather has been known as one of the founding members of the multi-million selling, multi-Grammy Award winning band Toto.
His outstanding guitar playing has appeared on hundreds of albums with the biggest stars and music legends including Van Halen, Whitney Houston, Alice Cooper, George Benson, Rod Stewart and even played guitar on Michael Jackson?s multi-million selling milestone album Thriller. Lukather even appears on Jackon?s posthumous studio album Michael, released on December 10th.
In 2009 Lukather was also inducted into Nashville?s Musicians Hall of Fame. The following year he received the international Eddy Christiani Award for 33 years of guitar mastership.
[Source; Noble PR]