CD/DVD Releases: Yes' ''Fly From Here'' Details Revealed

The most influential and ground-breaking progressive rock 'n' roll band in history, legendary rockers and Grammy Award winners Yes, will release their first studio album in a decade, Fly From Here, on July 1 in Europe and July 12 in North America through Frontiers Records. The group's long-awaited 20th studio LP is the follow up to 2001's Magnification and marks the band's reunion with producer Trevor Horn, who helmed Yes' chart-topping 1983 album 90125 and also sang for Yes on the Drama LP in 1980.

Yes is Benoit David on vocals (his first studio recording with Yes), Steve Howe on guitars/vocals, founder Chris Squire on bass/vocals, Geoff Downes on keyboards and Alan White on drums. Roger Dean, creator of a number of Yes' most memorable album covers, also returns with his signature style for Fly From Here.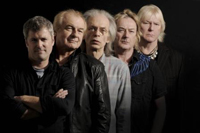 "At last we have some shape and dynamics within these tracks that are truer to the original idea of what a Yes recording is about," proclaims Howe.
"The new album represents the best of Yes from the '70s and the '80s with a current twist," Squire adds.
All of the songs on Fly From Here embody that classic and now iconic Yes sound and style. The first single, "We Can Fly," (to be released digitally on June 13) is borne from a piece of music that was written prior to the "Fly" writing sessions -- an idea that has now grown into an overture and five subsequent movements that feature the unparalleled musicianship and virtuoso talents that are synonymous with Yes. From the first chord of "Fly From Here – Overture" to the last note of the album's closer "Into The Storm," there is no question that the unmistakable technical proficiency of Yes carries on.
"It's awesome working with Trevor Horn again; he pays a lot of attention to detail. It was a great pleasure in the studio to play some incredible music with some great players," says White.
First formed in 1968, Yes' remarkable career spans over 40 years and the band has time and again redefined the boundaries of rock music.
Yes has sold nearly 50 million albums worldwide and continues to stretch the boundaries of progressive art-rock with their symphonic use of sound and innovative musical styles.
This summer, Yes will return to the road to bring Fly From Here as well as some of their classic hits to their loyal following. European tour dates are scheduled for the fall.
Fly From Here track listing:
01. Fly From Here - Overture
02. Fly From Here - Pt. I - We Can Fly
03. Fly From Here - Pt. II - Sad Night At The Airfield
04. Fly From Here - Pt. III - Madman At The Screens
05. Fly From Here - Pt. IV - Bumpy Ride
06. Fly From Here - Pt. V - We Can Fly
07. The Man You Always Wanted Me To Be
08. Life On A Film Set
09. Hour Of Need
10. Solitaire
11. Into The Storm
Fly From Here will be released in four different configurations: CD, CD plus a bonus DVD including a documentary "Making of the Album" in digipak edition, a gatefold vinyl and a special box set limited edition including the CD, DVD, vinyl, t-shirt, poster, sticker and a lithograph of the cover art.
[Source: Blabbermouth.net]