CD/DVD Releases: Rush - DVD/Blu-Ray Delayed, New Unauthorized Book/DVD Set Due, More...

The release date of the Rush DVD and Blu-ray titled Time Machine 2011: Live In Cleveland has been pushed back to November 8 from the previously announced October 25 (via Zoe Records). The disc will contain footage of Rush's April 15 concert at Quicken Loans Arena in Cleveland, Ohio filmed by the award-winning documentary makers Banger Productions from Toronto in Canada, who have received international critical acclaim for their previous movies Metal: A Headbanger's Journey, Global Metal and the Rush documentary called Rush: Beyond The Lighted Stage.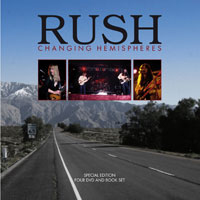 In related news, Abstract Sounds Books has set a September 26 U.K. release date for Rush's Changing Hemispheres, a 116-page hardcover book and four-DVD set.
Play.com describes the release as follows: "This is the true story of Rush from humble Canadian beginnings through to international super stardom. Featuring a masterful and comprehensive text packed with great photographs of the band this unique production also includes four documentary DVDs packed with candid audio interviews with the band members compared and contrasted with the views of a leading team of music journalists, insiders and musicologists. This uncensored and independent title has not been viewed or approved by the band or its management and is completely free to tell the unvarnished story of Rush as it really happened. The contents of this amazing book and DVD combination are completely essential reading and viewing for Rush fans everywhere."
Changing Hemispheres will only play on European Region 2 or multi-region DVD players. It is not presently clear if the set will receive a North American release.
If that ain't enough Rush for ya -- and unless it's Limbaugh, is there ever enough Rush? I think not -- according to a posting on the Rush fan site RushIsABand.com, Left Field Media will release a CD of the WMMS radio broadcast of Rush's August 26, 1974 concert at the Cleveland Agora under the title Rush ABC 1974. Due in the U.K. on October 24, this broadcast has been available as a bootleg for many years, but this seems to be the first legal release.
This was Rush's first recorded performance in the U.S. to feature Neil Peart on drums. Donna Halper, a former music director at Cleveland's WMMS-FM who was among the first to champion the enduring band's 1974 self-titled debut album, introduced the band.
[Source: Blabbermouth.net, Abstract Sounds (except the usual snarkiness, of course {where I say there's waay too much Rush Limbaugh... political ed.})]