CD/DVD Releases: Anubis Gate Premiere New Video On Metal Injection

New Album Out Now On Nightmare Records
Anubis Gate recently completed work on a video for their song "Golden Days." The song is taken from the band's latest self-titled release which is available now on Nightmare Records. Metal Injection is hosting an exclusive premiere of the video here

The music of Anubis Gate: Stylistically Anubis Gate is conglomeration of the classic 80's heavy metal, a more epic 90's ambience and a dark progressiveness of our days. You could describe it as metal with beautiful soundscapes, cool riffing, and a clear and powerful vocal performance.
The new album, titled simply Anubis Gate, is the most beautiful album the band has yet emerged with. The songwriting, which has always been the core of the "Anubis Gate sound," stands stronger than ever. This time emphasized by the fact that Henrik Fevre, who was largely responsible for writing the vocals on the previous albums, gets to sing the songs he wrote himself, injecting the emotion and meaning into the lyrics that he had in mind when writing them.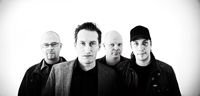 Anubis Gate isn't an album that's about endless keyboard/guitar unison soloing. It's all about the songs. From the classic Anubis Gate opener "Hold Back Tommorow" to the melancholic, but very crunchy, "The Re-formation Show," this album displays Anubis Gate at the top of their game while in no way rehashing their last two albums. Quite to the contrary, this album sees the band taking new turns whilst retaining the core of all the albums that came before.
Tracklist:
1. Hold Back Tomorrow
2. The Re-Formation Show
3. Facing Dawn
4. World in a Dome
5. Desiderio Omnibus
6. Oh My Precious Life
7. Golden Days
8. Telltale Eyes
9. River
10. Circumstanced
[Source: Freeman Products, Nightmare Records]