CD/DVD Releases: Strangers On A Train Titles Strangers No More...
Metal Mind Productions re-released in early November real progressive rock gems - unavailable for several years, the only two albums by the short lived outfit Strangers on a Train.
Strangers on a Train was formed in 1990 as a musical hybrid of talents comprising Clive Nolan (Arena, Pendragon, Shadowland, Caamora), Karl Groom (Threshold) and Tracy Hitchings (Landmarq). The Key Part I: The Prophecy (1990) is the beginning of The Key trilogy, an epic concept conceived by Clive Nolan, who also wrote all the music and lyrics. The Prophecy set out to be a performance album based on the strength of compositions, the skills of individual band members and a high level of emotional intensity. One could call it "chamber rock" - drawing from the roots of progressive rock, yet abandoning the unnecessary clichés that have always attached themselves to that genre of music.


The Prophecy contains over an hour of thoroughly composed, well thought out, brilliantly performed music - sometimes haunting, sometimes soothing, versatile in style and just plain different, which makes for a unique listening experience.
Strangers on a Train quickly got a faithful following and nowadays they enjoy a cult status. They have been known to be popular amongst progressive rock fans and those accustomed with Nolan's works, as well as crossing over to a wider audience, appreciative of New Age music and Cinematic soundscapes.
A handful of gigs followed along with The Key Part II: The Labyrinth (1993), the much anticipated second album. The five-part, 72-minute recording features three multilayered tracks of truly epic length and two shorter tracks exhibiting a balance of instrumental and vocal work. There were plans to record and release the third part of the trilogy. However, because of the success of the members' other bands, this has been put on hold.
The Key Part I: The Prophecy and The Key Part II: The Labyrinth were released by Metal Mind Productions on November 5th in Europe and December 11th in USA (via MVD). The material is remastered using tube technology and released in a digipack edition.
Strangers on a Train:
Clive Nolan (keyboards, backing vocals)
Karl Groom (electric and acoustic guitars, bass guitars)
Tracy Hitchings (vocals)
Strangers on a Train - The Key Part I: The Prophecy (remastered) Tracklist:
1. Arrival
2. Sacrifice
3. New World
4. Silent Companion
5. Crossing The Wasteland
6. Perchance To Dream
7. Lightshow
8. Occam's Tears
9. Losing A Hold On Life
10. From The Outside In
11. Duel
12. From The Inside Out
13. Healing The Rift
14. The Key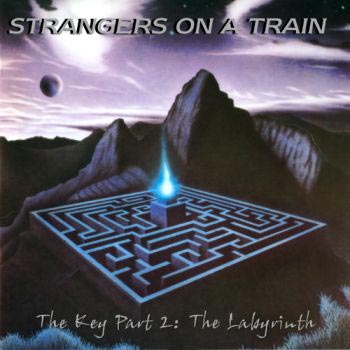 Strangers on a Train - The Key Part II: The Labyrinth (remastered) tracklist:
Darkworld:
   1. A New Beginning
   2. Edge Of Darkness
   3. Deliverance
   4. A Moment Of Sanity
   5. Beyond The Rubicon
Hijrah
The Labyrinth
   1. The First Veil - Sensing A Presence
   2. The Second Veil - Contamination
   3. The Third Veil - Trick Of The Light
The Vision Clear
Endzone
   1. Ocean's Flame
   2. Purification
   3. Recovery
   4. A New Perspective
   5. Denouement
[Source: Metal Mind]