Concerts: Threshold Announce European Tour!...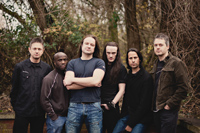 Wounded Land and Psychedelicatessen To Be Re-issued As "Definitive Edition" Vinyl
Legendary British progressive metal maestros Threshold proclaim the MARCH of progress! Matching the title of their highly successful new masterpiece March Of Progress (out via Nuclear Blast since August 24, 2012), the band will finally return to the European stages in March of 2013. Guitarist Karl Groom states enthusiastically: "It will be great to be back on the road with Threshold - and in particular to play songs from our latest album!"
Make sure to be there when the magic happens:

01.03. UK London - Underworld
02.03. NL Helmond - Lakei
03.03. NL Rotterdam - Baroeg
04.03. D Hamburg - Markthalle
05.03. D Berlin - C-Club
06.03. PL Warsaw - Progresia
08.03. A Kufstein - Kulturfabrik
09.03. CH Aarau - Kiff
11.03. SLO Ljubljana - Orto Bar
12.03. D Augsburg - Spectrum
13.03. D Aschaffenburg - Colos Saal
14.03. D Ludwigsburg - Rockfabrik
15.03. D Essen - Turock
16.03. D Osnabrück - Bastard Club
17.03. B Vosselaar - Biebob
After the entire back catalogue (apart from the band's 2007 Nuclear Blast debut Dead Reckoning) has been re-released over the past four months under the banner of the "Definitive Editions" - including extensive bonus material - the "Definitive Editions" of both the debut record Wounded Land and the follow-up Psychedelicatessen will now be released in vinyl format on January 25, 2013!
Each album will be mastered especially for vinyl and packaged as a double album with gatefold sleeve including posters. Wounded Land will come in a choice of black or yellow vinyl, Psychedelicatessen will be available on black or red vinyl. The respective tracklists look as follows:

Wounded Land
01. Consume To Live
02. Days Of Dearth
03. Paradox
04. Sanity's End
05. Surface To Air
06. Mother Earth
07. Siege Of Baghdad
08. Keep It With Mine

Bonus tracks:
09. Intervention
10. Conceal The Face
11. Shifting Sands
Psychedelicatessen
01. Sunseeker
02. A Tension Of Souls
03. Into The Light
04. Will To Give
05. Under The Sun
06. Babylon Rising
07. He Is I Am
08. Innocent
09. Devoted

Bonus tracks:
10. Lost
11. Intervention
12. Fist Of Tongues
13. Half Way Home
Order your copies now at the Nuclear Blast web shop: http://bit.ly/QUPp73
[Source: Nuclear Blast]