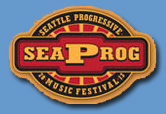 "We're very pleased to report that the
Seaprog
lineup is now complete with the addition of Saturday's headliner,
miRthkon
," writes the folks behind Seaprog. "This 'Oaklandish Chambercore' ensemble has been making waves in the world of creative music for several years now, and will be playing the prestigious Rock in Opposition (RIO) festival in France later this year. We're honored to bring the group to Seattle. The lineup for the June 28-30 event is now as follows:"
Friday, June 28 • The Royal Room (free)
:
Jolanda (Italy)
Monkey Bat (Seattle)
Zhongyu (Seattle)
Saturday, June 29 • Columbia City Theater
:
Mainstage:
miRthkon (Oakland)
Operation ID (Seattle)
Trimtab (Seattle)
Bone Cave Ballet (Seattle)
Front Room:
Tone Dogs (Amy Denio & Fred Chalenor) (Seattle/Portland)
Bill Horist (Seattle)
+ TBA
Sunday, June 30 • Columbia City Theater
:
Mainstage:
Thinking Plague (Colorado/Seattle)
Moraine (Seattle)
Alex's Hand (Seattle)
Dissonati (Seattle)
Front Room:
Austenitic (Seattle)
TBA Tickets went on sale March 30 at
www.seaprog.org
. Seaprog is the first weekend-long progressive music festival to be staged in Seattle in nearly 10 years. Unlike previous events of this type, Seaprog's focus is on progressive music of the here and now, rather than the prog stylings of yore. Seaprog will present more than 11 remarkable bands whose diversity of approach illustrates just how far progressive rock has evolved since its origins in the 1960s. The festival's emphasis is on the resurgent Northwest prog scene, plus some of the top creative bands playing avant music today. Conceived as a destination event rather than just another gig, Seaprog invites you to spend a weekend enjoying stimulating and intelligent music and visiting the many fine restaurants, bars, and shops in Columbia City. For more information, artist interview requests, etc., please contact
press@seaprog.org
.