Festival News: Progtoberfest Announces Lineups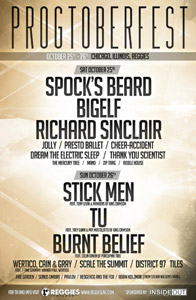 InsideOut's Spock's Beard And Bigelf Headline Saturday Night
A new prog-friendly annual festival announced back in August its lineups for October 25 and 26, 2014!
Progtoberfestis a two-day event, taking place in the Midwest, but its appeal is global. Progtoberfest's inaugural two-day celebration of all things proggy will be held at the multi-faceted Reggie's venue in Chicago, Illinois. US prog rock masters Spock's Beard (InsideOut) will headline Saturday night, October 25, with Stick Men (featuring Tony Levin and other members of King Crimson) finishing off the festival Sunday evening, October 26.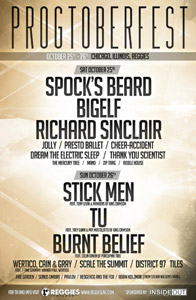 Also appearing will be InsideOut's own Bigelf; another King Crimson offshoot, TU (featuring Trey Gunn and Pat Mastelloto); Richard Sinclair (Caravan, Camel, Hatfield and the North); Burnt Belief (featuring Colin Edwin of Porcupine Tree); Jolly; Presto Ballet; Cheer Accident; Tiles; Scale The Summit; and many others!
Progtoberfest will operate two consecutive stages over its two days, with attendees free to travel between rooms and stages at will. A special VIP ticket option offers meet and greets in the venue's record store, Record Breakers, on the second floor.
For tickets and further information, please visit: www.reggieslive.com/showtag/progtoberfest-2014-at-reggies-chicago/
Organizers Kevin Pollack and Robby Glick plan to hold Progtoberfest every year. Progtoberfest 2014 is proudly sponsored by InsideOut.
Here's the complete line up: Bigelf; Burnt Belief; Cheer-Accident; District 97; Dream The Electric Sleep; Fire Garden, Hedgehog and the Fox; Adam Holzman; Jolly; The Mercury Tree; Pavlov, Presto Ballet; Riddle House; Scale The Summit; Richard Sinclair; Spock's Beard; Stick Men; Sonus Umbra; Thank You Scientist; Tiles; TU; Wand; Wertico, Cain & Gray; Zip Thing
[Source: InsideOut]