CD/DVD Releases: Alberto Rigoni Releases "Into THE BASS" Limited Edition CD

Into The BASS is selection of songs from Italian bass player and composer Alberto Rigoni's four studio albums (Something Different, Rebirth, Three Wise Monkeys and Overloaded).
With a range of influences from Dream Theater, Rush, Yes to artists such as Michael Manring & Stu Hamm, Into The BASS is an eclectic mix of instrumental tracks that shows the potential of the bass as more than a rhythm instrument. An aural journey of melody and groove that showcases a wide variety of genres covering progressive, rock, ambient and experimental, while maintaining the artist's distinctive style.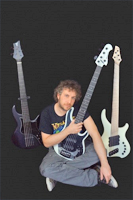 The texture of the album is enriched by the participation of top class musicians such as Gavin Harrison (Porcupine Tree), Michael Manring, John Macaluso (ex Yngwie Malmsteen, ARK), amongst others.
"An album full of bass excellence" - Joel McIver (author and music critic)
"Alberto is a passionate artist and his music is rich and evocative" - Michael Manring (solo artist)
Link to the album: albertorigoni.bandcamp.com/album/into-the-bass
[Source: Alberto Rigoni]