CD/DVD Releases: Genesis: 1983 - 1998 On Vinyl Again At Last!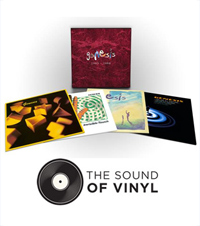 Comprising the last four studio albums from the legendary band, this lavishly packaged box comes complete with high-end reproductions of inner and outer sleeves, exactly as originally released. Each LP has been remastered at half-speed by Miles Showell from Abbey Road Studios and pressed onto 180gm vinyl. On vinyl these classic albums have never sounded better!
The contents of the "Red Box" are: Genesis (1LP); Invisible Touch (1LP); We Can't Dance (2LP gatefold) and Calling All Stations (gatefold with 2 LPs featuring music on sides 1-3 and an etching on side 4). The set comes in a smart red outer casing and follows Genesis: 1970 - 1975 ("The Green Box") and Genesis: 1976 - 1982 ("The Blue Box") and completes a series that brings together all of Genesis' studio albums on vinyl.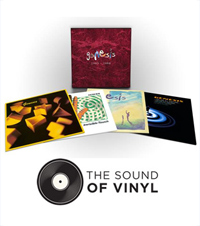 As with the previous two, the "Red Box" comes with a download voucher allowing the listener to get all of the music on MP3 at no extra cost.
[Currently the item does not appear on The Sound Of Vinyl's website - we'll update this item when we have more info. But... for those who are not haters of 80s Genesis, know that this out there...somewhere -ed.]
I was going to be cheeky and change the headline to either "Put Another Record On" (but that track came out on Abacab) or even "Turn It On Again," but... See, I know restraint -news ed.]
[Source: Genesis and Virgin EMI Records]