CD/DVD Releases: News Bits - Memories Of September....
Well, here are some news bits that were complied and prepped, but never posted... until now...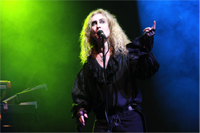 InsideOutMusic are pleased to welcome Steve Hackett and Agents of Mercy vocalist Nad Sylvan to their roster, for his forthcoming solo album, Courting The Widow, which is due out in October [October 16]. Nad comments: "Finally, after 40 years of fighting for it, I get a first class record deal."
Nad has most recently been seen performing alongside the legendary Steve Hackett as part of his Genesis Revisited show, continuing his stint into the latter part of this year. Nad adds: "In a little less than four years, I was snatched up by two iconic guitarists, namely Roine Stolt and then Steve Hackett. That must mean something to the world, because it sure means an awful lot to me." Nad formed Agents of Mercy with Roine Stolt (The Flower Kings, Transatlantic) in 2009, and have released three albums to date. "
[Source: InsideOut Music]

----------
Another InsideOut Music signing, Leprous, released in July a lyric video for the track "Slave" (shown below). The band previously released "The Price." Both tracks are from their latest release The Congregation, their fourth, as is the the audio-only track we included below, "Rewind" *.
Leprous' Einar Solberg checked in with InsideOut with the following comment about the track: "I would say that 'Slave' is one of the most emotional tracks of the album. The foundation is simple, but the content is rich."
The group will be performing throughout Europe in October , will be playing the Generation Prog Festival in Germany in November and at the Karmøgeddon Festival in Kopervik, Norway next April.
[*not why we included this, but... here the vocals sound a bit like Serg Tankian's... which I'm not entirely fond of, as I've shared elsewhere. But the music is ok -opinionated opinion ed.]
[Source: InsideOut Music (in essence)]
----------
Royal Hunt have a new disc out called Devil's Dozen (Frontiers)... which, if you're counting, this is their 13th studio album... so yeh, sure there's some meaning there. Here's what the band says about the release:
"The band holds tight to the format which defined rock -- an album chockfull of carefully crafted songs, recorded and mixed by a team of professionals who know how to combine crystal clear sonics with a weighty punch. Royal Rock… no substitutes!
"André Andersen: "We´re very pleased to be able to present our new, thirteenth studio album. While staying on course with all traditional Royal Hunt´s musical values this one contains quite a bit of variety -- from an up-tempo, double kick driven 'May You Never (Walk Alone)' to the bluesy 'Heart On A Platter' and probably our best ballad to date -- 'Until The Day.' Counting in Royal Hunt´s usual attention to details -- playing wise as well as production wise -- I´m sure that any fan of symphonic/melodic yet hard rocking music will be pleased with our latest offering."
Epic? Yes. This is what I'm listening to as I assume this news snippet:
[Source: Frontiers, Royal Hunt website]