Artist News: Magellan's Trent Gardner Passes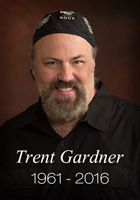 Updated 8:30pm PST: While the nature of Magallan's Trent Gardner's passing on June 11 have not been shared, the family has shared that it was sudden and unexpected.
A GoFundMe campaign has been launched to help the family cover funeral expenses - you can get to the campaign through the Magellan website.
While Gardner's musical history starts before Magellan, the first Magallan album was Hour Of Restoration (1991) - which included brother Wayne on guitars (who passed in 2014) and Hal Imbrie on bass - the first release (by catalog number) from the then new label Magna Carta -- the album includes the epic track "Magna Carta."


In 1994, the second release Impending Ascension was released, which added guest Doane Perry (Jethro Tull) on drums (read review). Their third release, Test Of Wills came out in 1997, which was a tighter release in terms of song contruction and featured Brad Kaiser on drums/percussion. You can read a review of Test Of Wills - the first we published and which prompted a personal anecdote (below). Five years passed before Hundred Year Flood was released, an album that Gardner used to talk about and reflect upon the death in Vietnam of his and Wayne's older brother (read review 1, review 2).
Signing to InsideOut, the trio (the two Gardner brothers and Jason Gianni (drums)) released Impossible Figures - "Less dense lyrically, they were easier to 'get into.," I wrote in 2003. "With Impossible Figures, Magellan have struck a balance between the two styles [between their first two albums and their third]." (my review).
Symphony For A Misanthrope came out in 2005, the brothers Gardner were aided by a number of guests on one or more tracks -- Joe Franco (drums/orchestral percussion), Robert Berry (drums/bass), Steve Walsh (keyboards) and Dave Mannion (keyboards). About this one, I noted "This is a very thick, dense album. Though the band doesn't get to thrash metal heaviness, the oppressive atmosphere is very much the same. [...] What we have are a series of commentaries that would make one feel rather dyspeptic about the world. Or, taken from another angle, as series of commentaries about someone who must surely hate the world because he's allowed this, that and the other thing to happen, or doesn't care that this, that, or the other thing has happened." (review).
The last full-length Magellan album was 2007's Innocent God (review).
More recently, Gardner released singles, including a cover of Kansas "Dust In The Wind" and "War Drum (This Ain't America)," which was released via iTunes and Amazon in September 2015.
The Magellan work is only a part of the Trent Gardner story, as he took part in many roles on several Magna Carta tribute albums, was the man behind the concept album Leonardo: The Absolute Man featuring a slew of guest vocalists and musicians (we reviewed it thrice, but the first published is here).
"Dare we say that Leonardo: The Absolute Man is not for the faint hearted but for those who want to take out some time to wander into the historic depths and truths of the unique talent of Leonardo da Vinci," Bobo wrote upon this album's release in 2001. "Trent Gardner has done an outstanding job and even if it becomes rather predictable that a lot of Magna Carta artists help out on a Magna Carta release, it still is a tour de force to accomplish something as complex and daring as this."
He also was producer behind The Explorer's Club projects Age Of Impact and Raising The Mammoth (which we've reviewed). And that's not to mention guest appearances with James LaBrie on the Mullmuzzler releases, with Jack Foster on a trio of releases, and on Steve Walsh's Glossolalia, among others. Plus he had the opportunity to work with the band Chicago, on Chicago XXXVI, as well as collborate with Chicago members Robert Lamm, Keith Howland and Lee Loughhane.

My (editor) personal reflection, besides being enamoured of Magellan's Test Of Wills CD, is that shortly after starting this site I reviewed said CD and the first celebrity response I ever received was from Trent. I remember getting all giddy about getting that email. Trent may not have been famous outside prog, but... to me it was a thrill. And that he acknowledged my identifying a Chicago influence in the music made me confident in what I was doing, writing reviews. I lost that email in a server crash a few years later, but still I recall it. Further I was just sharing this email story with a friend recently - eerily, it might have been just last week. And I was just at the Magellan website over the weekend as I updated some outdated links.