Festival News: Peter Hammill To Perform At NEARfest X!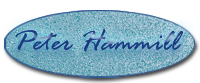 We are extremely honored to announce that Peter Hammill will perform as a solo artist on the Saturday slate of NEARfest X. Over his nearly forty year career, Hammill has recorded numerous solo albums featuring his unique and emotive vocal style and thoughtfully penetrating lyrics probing all aspects of the human condition. Whether performing solo or with his famed group Van Der Graaf Generator, Hammill presents an emotional depth and range that is unparalleled in contemporary music.
Hammill's 100-minute set will be sure to feature songs from the breadth of his vibrant and iconoclastic career. With hundreds of songs in his repertoire, no two shows are ever alike. As it has been ten years since Hammill has graced a stateside stage, be sure not to miss his performance at the tenth anniversary NEARfest!
* Peter Hammill's performance is pending an expected successful visa application.
[Source: Chad Hutchinson, NEARfest]