Eden's Curse To Open For Dream Theater In The UK
Date: Saturday, June 11 @ 15:00:00 UTC
Topic: Band News (tours, comings/goings, etc)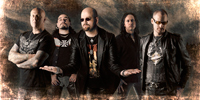 Multinational melodic metallers Eden's Curse will support progressive metal giants Dream Theater on the following dates:
July 22 - Leeds Academy – Leeds, UK
July 23 - Wolverhampton Civic Hall - Wolverhampton, UK
Commented Eden's Curse frontman Michael Eden: "Yes, it's true my friends .... anything can and will happen! The Curse has nailed the opening slot for the Dream Theater shows in July. We look towards the future with our friends in Dream Theater, as they prepare their UK return, with a show that will blow minds and speakers!! An evening of metal delights will never sound better to metal supporters everywhere!! Dream Theater is back and the Curse is ready to kick some ass with their hardcore fans in the UK, and our fans? They know what's coming. PREPARE!"


"No Holy Man," the new video from Eden's Curse, can be viewed here, The song, which features a guest appearance by Dream Theater vocalist James LaBrie, was released as a digital single via AFM Records.
"No Holy Man" was the first track to be released from Eden's Curse's third studio album, Trinity, which hit the stores on March 18.
LaBrie lends his backing vocals to the entire CD and also duets with Eden's Curse frontman Michael Eden on "No Holy Man."
Michael Eden said: "James recorded the Trinity sessions at Iguana Studios in Ontario straight after he finished his solo release, Static Impulse, which was perfect timing as he headed off on tour with Iron Maiden immediately after."
James LaBrie himself added: "In 2010 I was fortunate to discover Eden's Curse. I absolutely love this band. Great players and people and they deserve nothing but huge success. They belong with the best of today's music. Trust me, you're going to love this from beginning to end."
Bass player and main songwriter Paul Logue explained: "James was highly professional, as you'd expect, extremely approachable and very enthusiastic about our music. We sealed the deal very quickly and we got him in top form as he was also in the middle of recording and we feel the end results are breathtaking."
Michael Eden further added: "Trinity has been a long time in the making as we always strive to bring our current fan base and new fans our very best. I spoke with James LaBrie backstage on the Iron Maiden tour last summer and we had a great conversation. James has a way of making you see things in a different light than other people. It was an honor to have him along for the ride and we hope that it is not the last time we work together."
Trinity was helmed by Eden's Curse's longtime producer Dennis Ward (Krokus, Pink Cream 69, Angra) and was released in Japan via Spiritual Beast and in the USA on Metal Mayhem.
In Dream Theater related news, the new issue of the U.K.'s Rhythm magazine, which hit shelves on Monday, June 6, contains a nine-page feature on Mike Mangini, the newly recruited drummer for Dream Theater. Mangini talks about how he landed the Dream Theater gig; preserving former Dream Theater drummer Mike Portnoy's legacy as well as creating his own; and that grueling audition process. The magazine also takes a look around Mangini's massive set-up, takes tips on playing odd time signatures and delves deep into Mangini's technique behind the kit. Plus the magazine takes a closer look at the six guys that missed out on the much-coveted Dream Theater gig.
[Source: Blabbermouth.net]