Blind Guardian, New Best Of CD Due January 2012
Date: Sunday, December 18 @ 20:00:00 UTC
Topic: Album Release News


In the December 2 newsletter from Nuclear Blast, there is an item about an auction they are (or were) running for one lucky fan to visit their studio. Now, as I could find no recent mention of this on the Nuclear Blast site, nor at Blind Guardian's site, I can only conclude this was the auction conducted and concluded in April of this year. That being said, what it led me to on the BG site is current and verifiable is that the band will be releasing a "best of" collection on January 20 through EMI called Memories Of A Time To Come.
Below is the official announcement and commentary from the band's website:

"Finally, after all these years, we have found the time to gather our most worthy songs into a best of compilation, representative of our career's first 25 years. From the very beginning it was important for us to undertake this project only if we could put the necessary time and attention to detail into it. With overwhelming nostalgia we have looked back on 25 years and came up with Memories Of A Time To Come, an organic mixture of some of our greatest songs.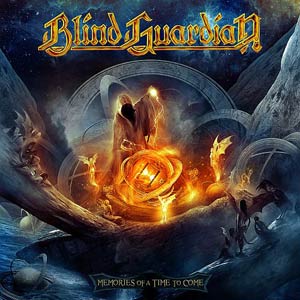 "With the exception of 'Sacred Worlds,' all songs on Memories Of A Time To Come have been remixed while 'The Bard's Song – The Hobbit,' 'Valhalla' as well as 'And Then There Was Silence' have been re-recorded. This album contains some very pleasant surprises for the die-hard Blind Guardian fan and delivers a perfect image of our musical spirit to those who are not, or just loosely, familiar with the band. Memories Of A Time To Come precisely defines our progression and the long-standing dedication to our music. We are proud to present an album that will take the listener on a musical voyage. This year's Christmas will be in January!
Memories Of A Time To Come, the ultimate collection of Blind Guardian music from 1987 to 2011, will be released on January 20, 2012 via Virgin/EMI. It will be available as a double CD, 3 CD deluxe limited edition including the legendary Lucifer's Heritage demos and as download. [Before they were BG, they were called Lucifer's Heritage -ed.]
Tracklisting:
CD 1:
1. Imaginations From The Other Side (7:11) *
2. Nightfall (5:34) *
3. Ride Into Obsession (4:46) *
4. Somewhere Far Beyond (7:32) *
5. Majesty (7:29) *
6. Traveler In Time (6:01) *
7. Follow The Blind (7:11) *
8. The Last Candle (6:03) *
CD 2:
1. Sacred Worlds (9:17)
2. This Will Never End (5:07) *
3. Valhalla (5:13) **
4. Bright Eyes (5:15) *
5. Mirror Mirror (5:09) *
6. The Bard's Song (In The Forest) (3:26) *
7. The Bard's Song (The Hobbit) (3:41) **
8. And Then There Was Silence (14:06) **
CD 3: (only available with the deluxe limited edition)
1. Brian ***
2. Halloween (The Wizard's Crown) ***
3. Lucifer's Heritage ***
4. Symphonies Of Doom ***
5. Dead Of The Night ***
6. Majesty
7. Trial By The Archon
8. Battalions Of Fear
9. Run For The Night
10. Lost In The Twilight Hall
11. Tommyknockers
12. Ashes To Ashes
13. Time What Is Time
14. A Past And Future Secret
15. The Script For My Requiem
* Remixed 2011
** Re-recorded 2011
*** Re-worked 2011
[Source: Blind Guardian website]