Amberian Dawn - New Album Release Date, Cover Art, Tracklisting
Date: Wednesday, December 21 @ 01:00:00 UTC
Topic: Album Release News



Amberian Dawn announced: "Our fourth studio album Circus Black is now ready. The initial release date (by Spinefarm Records/Universal Music Group) is 29th February 2012. The album is going to be released worldwide.
Tracklisting:
Circus Black 3:49
Cold Kiss 3:31
Crimson Flower 4:25
Charnel's Ball 4:27
Fight 3:21
Letter 4:31
I Share With You This Dream 3:37
Rivalry Between Good and Evil (Instrumental) 4:00
Guardian 5:09
Lily of the Moon 4:12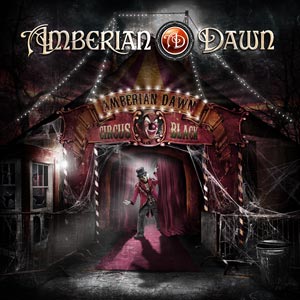 "As announced before, vocalist Timo Kotipelto (Stratovarius) and keyboardist Jens Johansson (Stratovarius, Dio,Yngwie Malmsteen's Rising Force) have contributed their talent on this album. Kotipelto sings lead vocal parts on "Cold Kiss" and Johansson plays a keyboard solo on "Crimson Flower."
"'Circus Black is the most impressive AD album so far. Musically it represents the most sophisticated and most symphonic edge of AD-music. There's more diversity on this album than never before. This is the first time we used a real choir and we gathered some really excellent professional opera singers together to be able to achieve the best sounding choir possible. This choir was conducted by Mikko P. Mustonen from Pathos Music. He also arranged the choir and orchestral parts.
"'We managed once again to get some world-class guests on this album. So, the production is our biggest so far and the final polish on this album was given by Teropekka Virtanen (mixing engineer) and Mika Jussila (mastering engineer) at legendary Finnvox Studios in Finland.
"'The whole band did excellent job with recordings. It was really awesome, that Kasperi recovered from his hand injury just in time (only a couple of weeks before the mixing sessions started) and he was able to play guitar solos on this album. Even in the fall it seemed that I and Kimmo would have to play all guitar parts by ourselves. Like usual, allmusic is on this album is written by me and lyrics are written by Heidi' – Tuomas/Amberian Dawn"
[Source: Twisted Talent]