RoSfest Announces Swedish Band Agents Of Mercy For 2012 Edition
Date: Wednesday, December 21 @ 01:10:00 UTC
Topic: Festival News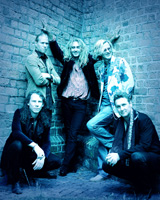 RoSfest is happy to announce that Swedish band Agents of Mercy have been signed as Sunday night headliners for the 2012 edition of the Rites of Spring Festival.
Initially planned as a solo project by Roine Stolt (guitars, vocals) with Nad Sylvan (vocals, keyboards) asked to contribute guest vocals, the last few years have seen Swedish outfit Agents of Mercy develop into a permanent band project. Lalle Larsson (keyboards, vocals), Jonas Reingold (bass, pedals) and Walle Wahlgren (drums, percussion) have been added to the line-up, and this fivesome have established themselves as an active and increasingly popular presence in the live circuit. In their few years of existence their style has developed too. Initially exploring a lighter-toned, careful Genesis tinged style, their latest CD The Black Forest have seen them expand their sonic palette with darker touches, inspired by acts such as Led Zeppelin, Deep Purple and King Crimson.

With a relatively newly formed act chosen as headliners, the novelty aspect of this concert isn't quite on par with what some might expect. Especially as quite a few will have seen this band live already. Band and organizers both are aware of this, and due to that Agents of Mercy are preparing a small surprise exclusively for the ROSfest audience. Nothing major, and nothing that calls for idle speculation or wishful thinking. But a nice little touch, one that first and foremost will make this concert a memorable event even if you have seen Agents of Mercy live recently.
With this announcement the complete line-up of ROSfest 2012 has been finalized, and we're all eagerly counting down the remaining months, weeks and days for the Friday night kick off. Three days, ten artists, with plenty of fine memories and good times to be experienced by bands and audience alike. And we believe Agents of Mercy is the perfect band to wrap it all up as darkness descends upon Sunday the 6th of May and the 2012 edition of the Rites Of Spring Festival.
[Source: RoSFest]